Description
Very interesting Life Saving and WW2 medal group, ephemera and artefacts to an RNVR and Merchant Navy Officer.
George Clampitt, having been awarded the LSHS medal in 1936 for Gallantry in a life saving attempted rescue whilst as a Merchant Navy Officer, went on to Command H.M.S. Jasper and other smaller vessels before Commanding H.M.S. Narcissus in the renowned B3 Group,Western Approaches with the Free French navy and Polish navy. He was awarded the French Croix de Lorraine and the Croix de Guerre with Silver Star for valuable service with the Free French. He later commanded the LST 77 in the Adriatic and Mediterranean. Post WW2 he returned to the Merchant Navy.
Medals: Liverpool Shipwreck and Humane Society Bronze Medal named on the rim to ( TO GEORGE T.S. CLAMPITT. FOR GALLANT SERVICE. 7/7/36. ) with box of issue and miniature. 39/45 Star, Atlantic Star ( France and Germany bar), Africa Star (North Africa 1942-43 bar), Italy Star, War Medal, Croix de Guerre avec Etoile. With corresponding miniatures medal bar and separate ribbon bar with corresponding rosettes, numerous several individual ribbons with rosettes, plus 1 large and 1 small FREE FRENCH FRANCE LIBRE enamelled badges and the Croix de Lorraine pin badge.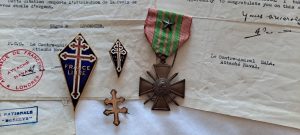 George Thomas Sidney Clampitt was awarded the Liverpool Shipwreck and Humane Society Bronze Medal on the 2nd day of December 1936. His decorative scroll cites he be awarded the Society's thanks along with the Bronze Medal "in recognition of his courageous efforts to rescue a man who was drowned while bathing at Hamburg on July 7th 1936″.  A newspaper clipping reporting this award also records that Chief Officer of the S.S. Lagosian G.T.S. Clampitt with 2 others had tried to rescue the fellow crew member.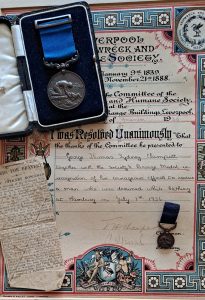 His WW2 service saw him as an Officer commanding H.M.S. Jasper (ASW trawler) Aug 1940 to June 1941, H.M.S. Northern Sun (ASW trawler) Oct 1941 to Jan 1942, H.M.S. Loch Oskaig (ASW trawler) Feb 1942 to May 1943, H.M.S. Annet (MS trawler) June 1943 to Oct 1943 then H.M.S. Narcissus (Corvette) Dec 1943 to Nov 1944 and finally L.S.T. 77 Dec 1944 to the end of the war. Navy Lists also show him as Temp Lt RNVR of H.M.S. La Flore (a captured French Torpedo Boat in Portsmouth, May 1943 though this must have been a brief posting.
After WW2 as Master of the S.S. Kaituna he features in several newspaper articles when he docked in Wellington, New Zealand. When he arrived in Wellington, he "reached out" through the papers to ex NZ servicemen he had known during his wartime service on the L.S.T. 77 to hopefully meet up for a re-union whilst he was in port. These newspaper articles intriguingly refer to him as "Oncle Georges" who, reportedly, had a 50,000 Franc bounty on his head and they give a brief outline of his wartime service. In the Adriatic, on LST 77 he had carried thousands of refugees, food and ammunition and landed partisans, in some reports.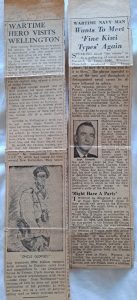 Whilst in Wellington NZ he met with local renowned artist Peggy Toswill (Spence-Sales) and she drew the sketch as seen in the clipping in which he is wearing the Free French badges.
Artefacts: SUPERB and RARE large B3 Flotilla Plaque. Metal on wood which features the White Ensign, French and Polish Flags and a Bee above BIII on scroll. A carved wooden plaque ( by Clampitt ) featuring a cigar smoking Winston Churchill with a photograph showing Clampitt, in uniform, carving a piece along with a newspaper cutting describing same. Framed 1946 Admiralty letter confirming the award of the Croix de Guerre with Silver Star for services with the 1st French Corvette Division.
Ephemera: Liverpool Shipwreck and Humane Society certificate scroll mounted on card. Numerous photographs including 2 of the Ship's Company and Officers just before D-Day. 1958 Re-union invitation to a Ceremony at the Arc de Triomphe. 2 service "flimsies" dated January 1943 (HMS Oskaig) & July 1944 (HMS Narcissus). 4 newspaper clippings and transcripts 1) Awards for Bravery 3/13/1936 which details the award of the Liverpool Shipwreck Medal 2) "Kept awake by Carving Wood", 3 & 4) Articles written about him in New Zealand seeking a meeting with wartime New Zealander colleagues when his vessel MV Kaituna docked at Wellington N.Z.
Original official Letters as follows: 
a) Award of the Croix de Lorraine dated 22 Mai 1944 from Republique Francaise, Marine Nationale, 1'ere Division de Corvettes. 22nd May 1944. Typed in French the letter confirms the award of the Croix de Lorraine as Commandant la Corvette HMS Narcissus.
b) Award of the Croix de Guerre avec Etoile d'Argent – Dated 22nd Janvier 1946 from Le Vice-Admiral Lemmonier, Marine Nationale. Typed in French confirming the award of the Croix de Guerre.
c) Admiralty letter (3 copies (1 framed)). This letter dated 30th March 1946 – confirms his Admiralty permission to wear the Croix de Guerre for service with the 1st French Corvette Division.
d) Admiralty letter dated 23rd May 946 – confirming his release from service and thanking him for his service to the Royal Navy during the War.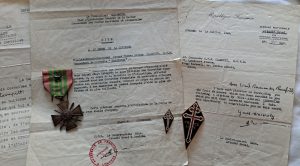 e) Dated 19th July 1946 from the French Marine Nationale confirming enclosure of the Croix de Guerre. His address is given here in Kings Kerswell, Newton Abbot, Devon.
George Thomas Sidney Clampitt was born 1908 in Birkenhead and died at Hawkmoor Chest Hospital, Bovey Tracey near Newton Abbot, South Devon 1962. He was living in Hele Road, Kingsteignton at the time of his death.
Altogether a superb group to a man of many talents and brave service that merits deeper research.
Payment by Bank Transfer preferred, payment by card is available. PayPal is not available and any attempted payment will be returned unless an additional 5% is added to cover their costs.