Description
Good selection of First World War Memorial Plaques – individually priced.
Make your selection from the listed plaques below. Email me directly to arrange payment and invoicing. Email address ttandm4h@outlook.com or call me on 07765 595662
Method of payment – Bank Transfer, Details – Sort code 30-94-41 – Account No. 48469068 or PayPal, acct name ttandm4h@outlook.com – further details below.
Price includes UK postage only – overseas buyers are required to contact us to agree shipping method and costs.
List of Casualties as follows –
BREALEY, Francis Leonard Frank who died of wounds as a Prisoner of War 27th July 1917 aged 19 years. 61038 Private F. L. Brealey 2nd Battalion, Sherwood Foresters (Notts and Derby Regiment). Son of Mr and Mrs W Brealey of 13 Old Road, Brampton, Chesterfield. He is Remembered with Honour at Tournai Communal Cemetery Allied Extension. He is also Commemorated on the Memorial at St Thomas The Apostles Church, Brampton, Derbyshire.  £135.00. 
BATE, Basil E who died 27th November 1916 aged 19 years. 27362 Private Basil Edward Bate, "A" Company, 8th Battalion, Gloucestershire Regiment. Son of Annie Gertrude Bate, of 101, Cotham Brow, Bristol, and the late Arthur Henry Bate. He is Remembered with Honour at ETRETAT CHURCHYARD, France. £120.00
BENN, Charlie who died 16th August 1917 aged 33 years. 200627 Serjeant Charlie Benn, 1st/4th Battalion, Royal Berkshire Regiment. Son of Charles and Mary Benn, of Virginia Water, Surrey. He is one of 13 casualties of the Berkshire Regiment that died on the same day and lies in the same cemetery as his fellow fallen Regimental comrades. He was Captain of Staines and Egham Swimming Club. Charlie Benn is Commemorated on memorials at both St John the Baptist Church, Egham and Christ Church Virginia Water. He is Remembered with Honour at New Irish Farm Cemetery, Belgium. £120.00
DUDLEY, George Woodward who died 23rd July 1918 aged 43 years. 554283 Sapper George Woodward Dudley of 517th Field Company, Royal Engineers. Son of Thomas Woodward Dudley and Eliza Dudley, of 14, St. Stephens Rd., East Ham, London. He is Remembered with Honour at CONTAY BRITISH CEMETERY, CONTAY. £120.00
BAGGS, Edward Ernest who died 13th April 1917 aged 27 years. 202124 Private Edward Ernest Baggs of 1st 7th Worcesterhire Regiment.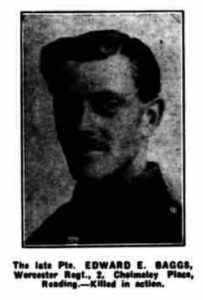 Brother of S. F. Baggs,of 2, Cholmeley Place, Reading, Berkshire. He is Remembered with Honour at the Thiepval Memorial. £115.00.
BENGAFIELD, Frederick Arthur, who died 28th October 1918. S4/042273 Private Frederick Arthur Benjafield, 51st Field Bakery, Army Service Corps. Native of Colliton Street, Dorchester, he died by accidental drowning in Egypt  He is Remembered with Honour at Alexandria (Chatby) Military Memorial Cemetery, Egypt. £115.00
ELLIS, George William, who died 14th April 1916 aged 27 years. 15152 Private George William Ellis of 9th Bn, Essex Regiment. Son of William Thomas and Alice Mary Ellis, of 36, Havannah St., Millwall, Poplar, London. Remembered with Honour Vermelles British Cemetery.
BIRCH, Frederick William – 3 possibles – £115.00
Major, 4th Bn South Wales Borderers, died 17th April 1916, Basra Memorial
12010 Lce Corporal, 2nd Bn,

Hampshire Regt

, Pink Farm Cemetery, Turkey.
74583 Private. 7th Bn. Royal Fusiliers, Vis-en-Artois.
ELLISON, Thomas – multiple possibilities (including an NZ casualty) £115.00
BOYLE, Louis – 2 possibilities – £115.00
144825 Private,

24th Canadian Infantry

, 17th Sept 1916, Vimy Memorial
8932 Private,

2nd Bn. Royal Irish Fusiliers

, 25th November 1918, Ramleh Cemetery
BLACKSHAW, Joseph – 3 possibilities £115.00
R/10137 Rifleman, 7th Bn King's Royal Rifle Corps, 21st July 1915, Bedford House Cemetery
22357 Gunner, 17th By, 41st Bde, RFA, Menin Gate
15900 Private, 1st Bn, Royal Scots, 25th Sept 1915, Menin Gate
BIRCHENOUGH, Harry – 2 possibilties £115.00
40079 Private, 6th Bn, South Wales Borderers, 1st November 1918, Pont-de-Neppe Cemetery
32863 Private, 1st Bn, Manchester Regt. Ramleh War Cemetery
DOWNS, George – 3 possibilities £115.00
27183 Pte,

6th Bn, Northants Regt

, Contay Cemetery, Fr.
9158 Pte, B Coy, 7th Bn Lincs R. Maple Cross Cemetery
11/7115 Pte, 11th Bn, East Yorks Regt, Ploegsteert Memorial.