Description
BERTRAND ANDRIEU c1810 Complete Set of NAPOLEONIC MEDALLIONS
HIGHLY SOUGHT AFTER COMPLETE SET BY BERTRAND ANDRIEU (1761-1822), EARLY 19TH CENTURY
Napoléon I. 1804-1814. Group of 10 Bronzed Lead Uniface Cliché Medals in Special Presentation Case. By Bertrand Andrieu. Manufactured circa 1810 or slightly later. A set of ten bronzed uniface cliché medals of varying sizes showing eight obverses and two reverses depicting various personalities and scenes from the French Revolution to Premier Empire, the entire set mounted into two specially prepared and velvet lined trays, with 2 protected by original glass. All within a wooden presentation box in the form of a leather-bound volume. Overall dimension of case: 270x357x50mm. The largest – 5½ in. (14 cm.) diameter
Group includes the following:
(First tray, smaller medallions)
1) Bust of Josephine right. Size: 65mm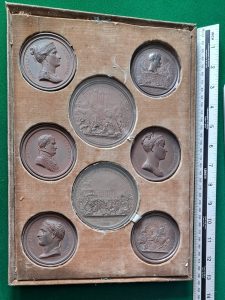 2) Bare head of Napoléon right, set on tableau with flags on either side. Size: 65mm.
3) Laureate half-length bust of Napoléon right. Size: 65mm
4) Siege of the Bastille. Size: 85mm.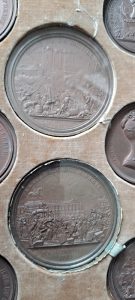 5) Return of Louis XVI to Paris. Size: 85mm
6) Bust of Marie Louise right. Size: 65mm.
7) Laureate head of Napoléon left. Size: 65mm.
8) Napoleon crossing the Alps. Size: 65mm.
(Second tray, large medallions)
1) Conjoined busts of Marie Louise and Napoléon left. Size: 140mm (slight indentation on rim at 1 O'clock. See image.)
2) Laureate head of Napoléon left. Size: 140mm. Medals EF, 2 have glass covers.
The presentation box is in delicate condition and would benefit from restoration. The velvet has faded and board partially detached.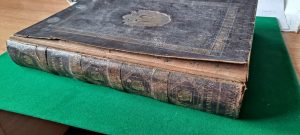 Overseas buyers are instructed to contact us to agree shipping prior to purchase.
Preferred method of payment is Bank Transfer otherwise Card Payments are available.
PAYPAL is also available but will attract a surcharge of 4.5% – please add on checkout. Paypal is not accepted for overseas buyers.