Description
RARE Female French Carnegie Foundation Medal
The Andrew Carnegie Medal for France, founded 1909, Presentation Plaquette for Lifesaving,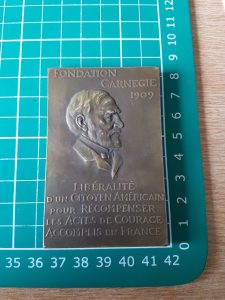 Rare Award to a Female, Awarded to BULIDON (ANTONINE) 1927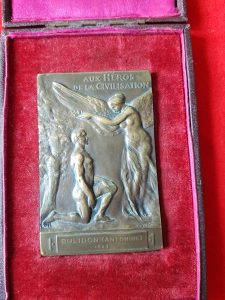 Antonine Bulidon 1927
by Louis Dejeau (1872-1953), bust of Carnegie right, FONDATION CARNEGIE 1909 – LIBÉRALITÉ D'UN CITOYEN AMÉRICAIN POUR RÉCOMPENSER LES ACTES DE COURAGE ACCOMPLIS EN FRANCE, rev diaphonous Victory places a wreath on the head on a kneeling naked hero, named and dated on tablet below, 81mm x 53mm, in fitted case. This Medaille Francais de La Fondation Carnegie des Heros
French Carnegie Humane Medal – Female Recipient Antonine Bulidon 1927
Free postage to Mainland UK. Overseas buyers are requested to contact us prior to ordering to agree shipping terms.