Description
The fine group of Gorton Mansell Angier who rose from Private in the Stockbroker Battalion, 10th Royal Fusiliers, commissioned into the 5th "Cinque Ports Battalion", Royal Sussex Regiment attached to Royal Flying Corps (see medal index card) to RAFVR Squadron Leader in the Second World War.
Having entered France, 31st July 1915, with the Stockbroker Battalion he was then commissioned into the 5th Royal Sussex Regiment, 11th March 1916. He was soon attached to the Royal Flying Corps 4 Squadron and was an air Observer when he was wounded when attacked and shot up over Contalmaison, 20th July 1916.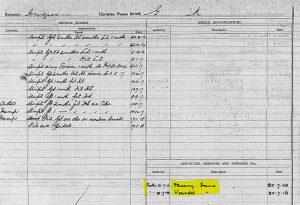 He was wounded when flying, near Contalmaison, as Observer with Lt G V Randall in a BE2c, 4 Squadron, 20th July 1916. Whilst Angier was wounded, the pilot Geoffrey Victor Randall, aged 19 years, was Killed in Action. Randall is Remembered with Honour at the Arras Flying Services Memorial.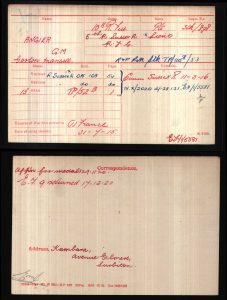 Medal Index Card confirms Great War service STK/898 Private, Royal Fusiliers, Commissioned 11th March 1916 into 5th Battalion Royal Sussex Regiment attached to Royal Flying Corps. At this time living in Surbiton.  He entered France 31st July 1915. At the beginning of World War 2, in 1939, he held the rank of Flight Lieutenant, Administrative and Special Duties Branch 1939.
Angier's visit, as Squadron Leader, to No 57 OTU Unit at Hawarden, Flintshire, is noted in the No 57 Operational Record book.
Medals, court mounted by Spink as worn, 1914/15 Star ( STK – 898 PTE G.M. ANGIER R. FUS. ), British War Medal & Victory Medal ( LIEUT. G. M. ANGIER. ), Defence Medal, War Medal, Air Efficiency Award ( SQN. LDR. G. M. ANGIER. R.A.F.V.R. ).
10th Battalion, Royal Fusiliers, The Stockbrokers' Battalion can lay claim to be the first of the volunteer Pals' Battalions of the Great War. Its members ranged from wealthy bankers such as the Rothschilds, to clerks in the City of London. Angiers, himself, was a City journalist with the London & China Express in Gracechurch Street, London.

Gorton Mansell Angier was born on 5 February 1894 in Surbiton, Surrey, his father, Arthur, was 35 and his mother, Alexandra, was 31. He married Elaine M Fenton in October 1933. He died in July 1972 in Surrey at the age of 78. Before the Great War he was a Journalist with the London & China Express, Gracechurch Street, London.
PAYPAL is NOT available for this item. Overseas buyers must contact us to agree shipping prior to order. Email ttandm4h@outlook.com for details or call 07765 595662 to arrange.
Card Payment on Checkout, Bank Transfer (Account name: ttandm4h, Sort Code 30-94-41, Account number 48469068).
Part Exchange welcome.