Description
Queen's South Africa Medal with no clasp named to: 4100 PTE. T. SMITH. 2ND DRGN GDS. He was entitled to Cape Colony, South Africa 1901 and South Africa 1902 clasps. He transferred to the 4th Provost Regt of Dragoons. He was born St. Anns, Cardif and was 23 years old when he attested in 1892. He had previously served in the KSLI, King's Shropshire Light Infantry.
In addition to service in South Africa he also served in India and Egypt.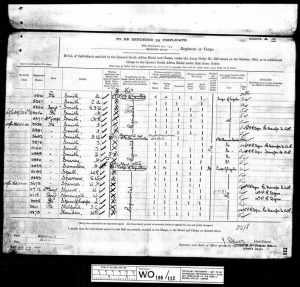 He served a total of 12 years.
Overseas buyers are asked to contact us to agree postage method and costs prior to purchase. Preferred method of payment is Bank Transfer otherwise Card Payments are available – just follow the process. PAYPAL is also available but will attract a surcharge of 4.5% – please add on checkout.