Description
Rare Clasp combination Anglo-Boer War ( M.I.D) and Great War medal group.
Medals – Queens South Africa Medal with Defence of Kimberley, Paarderberg and Johannesburg clasps ( 4568 PTE. G. HOLMES. L.N. LANC. REGT. M.I. ), King's South Africa Medal with SA 1901 and 1902 clasps ( 4568 PTE. G. HOLMES. L.N. LANC. REGT. ), 1914/15 Star ( PTE. G. HOLMES.  7TH INFANTRY ), British War Medal ( PTE. G. HOLMES. S.A.V.R. ), Victory Medal (bilingual) ( PTE. G. HOLMES. 7TH. INFANTRY ), Kimberley Star. (6)
His Military Service timeline is as follows – Loyal North Lancashire Regiment 27th August 1894 to 10th August 1902, 7th South African Infantry 30th September 1914 to 13th August 1915, South African Volunteer Reserve 25th August 1915 to 31st March 1916.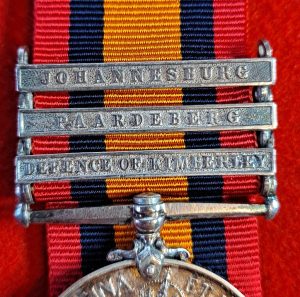 Defence of Kimberley  / Paarderberg clasp combination – Following a faster than anticipated chase of Cronje the supply lines were overstretched and a message was sent to Kimberley for a delivery of bread. De Beers duly baked the required bread and an escort was raised to provide support for the delivery. 174 troops were assigned escort duty of which 20 were from the Loyal North Lancs Mounted Infantry, of which Holmes was one. The bread was delivered without incident with the party staying 1 night at Paarderberg – thus them being entitled them to the clasp.
Mentioned in Lord Roberts' Despatch 4th September 1901.
Prior to the unit posting to the Cape Holmes was stationed in Ceylon where he served for just over 3 years. He was then posted to South Africa 11th February 1899. Great War service saw him serving with the Kimberley Regiment, 2nd Battalion. He saw service in German South West Africa (Namibia) before transferring to the South African Volunteer Regiment.
George Holmes was born 11th November 1875 to James and Elizabeth Holmes of Boxwood Street, Blackburn, Lancashire. He was a Flagger and Slater when he attested in 1894. Having retired from De Beers he lived in Sawmills, Southern Rhodesia. He died 19th April 1947. He had served De Beers for circa 32 years, excepting the years of military service during the Great War.
With folder of research and copy papers.
Overseas buyers to agree shipping method and costs before buying. Payment by Bank Transfer or Card. IBAN & SWIFT numbers on request for international money transfers. PAYPAL is not available but can be arranged though this will incur an additional fee of 5% of the total.