Description
Ulster Division Great War Somme Military Medal Group
This Somme Gallantry Group is to a Private in the Royal Army Medical Corps, 110th Field Ambulance, 36th Ulster Division.
Private Henry Fitzgerald served as 54696, 110th Field Ambulance, 36th Ulster Division and his award of the Military Medal was announced in the Larne Times 11th November 1916. The article states that the award was for gallant service in July 1916. the Battle of The Somme. It was confirmed in the London Gazette 9th December 1916.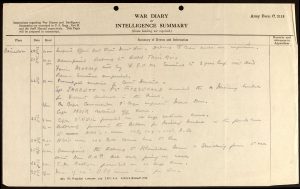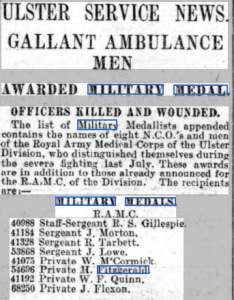 He arrived in France, with the unit, 5th October 1916. The Ulster Division was formed from the Ulster Volunteer Force in 1914. This had been a complicated process due to the political uncertainties of the time involving Irish Home Rule. Prior to embarking for France they were stationed at Seaford in Sussex, England.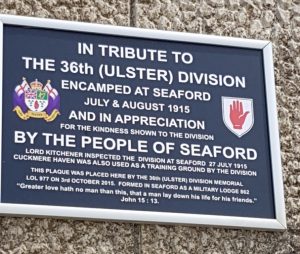 The 36th Ulster Division took over the Front Line in Spring 1916. They suffered heavily on the first day of the Battle of the Somme where they attacked at Thiepval. As the newspaper extract mentioned above in the Larne Times this Military Medal was awarded for his service during July 1916 which was the Battle of the Somme period.
The Medal Index Card and Medal Rolls confirm the award of the 1914/15 trio and Military Medal.
The Military Medal is named to: 54696 PTE. H. FITZGERALD. 110 / F.A.  R.A.M.C.
1914/15 Star, British War Medal and Victory Medals are named to: 54696 PTE. H. FITZGERALD. R.A.M.C.
Ongoing research – It is of significant note that on the 28th May 1921 a Henry Fitzgerald, officially described and recorded as an ex-soldier, was murdered by the IRA near Mallow alongside his brother Thomas. In many news reports, in Hansard and in other documents, Henry Fitzgerald is referred to as an ex-soldier who after being mortally wounded gave testimony before succumbing to his wounds.

Free postage to Mainland UK. Overseas buyers are requested to contact us prior to ordering to agree shipping terms – failure to do so may result in order cancellation.
Offers invited.