Description
Sussex Constabulary Great War Medal group of an award winning horticulturalist of William Henry Short, resident of West Chiltington, West Sussex.
With 2 Army Forms – Z. 21 and Z. 18. Army Form Z 21 confirms Short originally enlisted into the Norfolk Regiment.  These confirm William Harry was born in 1892 served throughout the war and was transferred to the reserve 20th March 1919..  served with the Essex Regiment. The accompanying photograph shows Short seated in uniform with Norfolk Regiment cap badge.
4 Horticultural medallions as follows:
The Royal Horticultural Society Medal (Joseph Banks Medal)  – Awarded by West Chiltington Fete and Flower Show Committee 1968 to W. H. SHORT.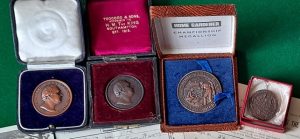 2. Toogood & Sons Ltd. Medal  – Awarded by West Chiltington Fete and Flower Show 1967 to W. H. SHORT.
3. Toogood & Sons Seedsmen, Southampton, Seedsmen to the King  Medal
4. Home Gardener Championship Medal – unnamed.
With enamelled Special Constabuary West Sussex badge. Also present is an addressed envelope to Mrs Short, Holdens, West Chilitington , Pulbourough, Sussex.
Medals, swing mounted on bar – British War Medal and Victory Medal ( 50417 PTE. W. H. SHORT. ESSEX R. ), Special Constabulary Medal ( WILLIAM H. SHORT. )
sku – jfnc