Description
A superb Anglo-Boer War pair and Great War Medal trio consisting of a 9th Lancers Queen's South Africa Medal with BELMONT, MODDER RIVER, RELIEF OF KIMBERLEY, PAARDERBERG, JOHANNESBERG, DIAMOND HILL AND WITTEBERGEN clasps, King's South Africa Medal with 01 and 02 clasps swing mounted together with a Canadian Mounted Rifles Great War 1914/15 Star trio.
The 9th Lancers saw extensive action throughout the Anglo-Boer War and the QSA Medal roll for the 9th Lancers confirm the medal and clasps to William Griffin.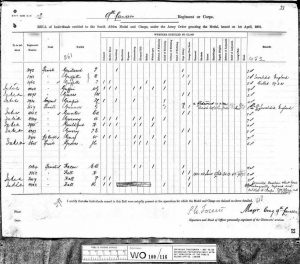 William George Griffin was an 18 year old, born in Rowsham, Aylesbury, Bucks, when he attested into the Corps of Lancers of the Line in October 1897. He served a total of 12 year, discharged on termination of 1st period 20th October 1919. In addition to two and a half years in the Cape he also served three and a half years in India.
He had originally joined the Kent Artillery and his papers confirm him joining the Lancers on the 21st October 1897,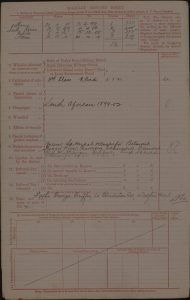 The medals are named as follows: QSA (Be, MR, RoK, Pa, Jo, DH, Wi) & KSA (01, 02) to: 4342 PTE. W. G. GRIFFIN. 9TH LANCERS – , 1914/15 Star: 109131 SGT. W. G. GRIFFIN. 4 / CAN: MTD: RIF: British War Medal and Victory Medal to: 109131 SJT. W. G. GRIFFIN. 4 – C.M.R.
Griffin emigrated to Canada in 1907. Having settled he enlisted into the 4th Canadian Mounted Rifles, Canadian Expeditionary Force, in Toronto on 22nd November 1914. Promoted to Sergeant 24th July 1915 he arrived in France 24th October 1915. He was wounded by shrapnel near Messines 22nd November 1915. Following prolonged complications he was discharged medically unfit 28th May 1918.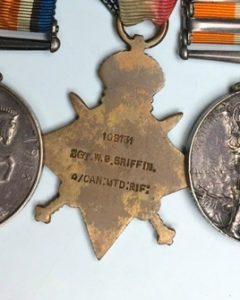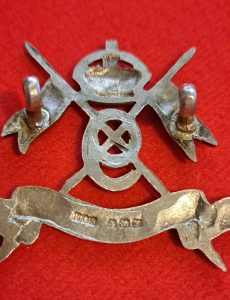 He married Daisy Crawford Lawrence in 1907 in Montréal, Quebec, Canada. As well as other locations he lived in Brantford, Ontario, Canada, in 1911. They had one child during their marriage. He died on 18 January 1945 in Montréal, Quebec, Canada, at the age of 65, and was buried in Outremont, Quebec, Canada.
Highly evocative film footage of English Lancers charging at Modder River can be found at the Library of Congress follow this link – https://www.loc.gov/item/00694195/
Swing mounted on a W SCULLY, MONTREAL bar & comes with a silver hallmarked 9th Lancers Cap Badge.