Description
The superb medal group of Lt. Col. Henry Rundle Lawrence C.I.E.
Kaisar-i-Hind, London Gazette 1st January 1915. Companion Indian Empire (C.I.E.), London Gazette 3rd June 1925.
With framed Mention in Despatches certificate to – Indian Army Maj. H. R. Lawrence, attd. 40th Pathans. Mentioned in a Despatch from Lt General J. L. van Devente K.C.B. dated 11th October 1917 for gallant and distinguished services in the field, signed Winston Churchill.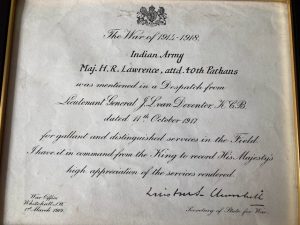 excerpt – The advance on Dar Es Salaam: On 31st August the 40th Pathans marched out of Bagamoyo on an independent mission connected with the capture of Dar Es Salaam; three other British columns also marched out with differing tasks. The Pathans were to march south-west through Mbawa to Ruwu station on the German Central Railway. If the adjacent bridge over the Kingani River was intact then the regiment was to guard it, but if the bridge was blown the Pathans were to loop eastwards and occupy Pugu Hill west of Dar Es Salaam. Accompanying the Pathans column were two British intelligence officers with African Scouts, and the Bishop of Zanzibar with a Labour Corps of Zanzibaris who carried the column's supplies.
The Pathans had a small contact at Mbawa during which Subedar Najibullah, 46th Punjabis attached to 40th Pathans, and one sepoy were wounded. At Ruvu on 1st September the railway bridge was seen to be completely destroyed. Quickly moving south to Msenga two Germans and a few askari from the 3rd Schutzen Company were captured. Major H.R. Lawrence, Indian Political Department attached to 40th Pathans, was sent with the Dogra company and two machine guns to attack Kola, which was taken after a sharp fight, Jemadar Mainu being slightly wounded. Twelve Germans were captured and one killed. With the remainder of the regiment Major Tyndall captured nine Germans, a few Askari and about 2,000 porter loads of rations, clothing and supplies in a large depot at Kasinga. Major Lawrence made a night march through the bush to join the regiment at Kasinga. On 5th September the 40th Pathans marched into Dar Es Salaam, the town having been surrendered by the Germans the previous day. (source, the excellent article – THE 40th PATHANS IN ACTION IN EAST AFRICA January 1916 to February 1918 by Harry Fecitt)
No. 4079 Sepoy Chamel Singh was awarded an Indian Distinguished Service Medal for saving Major Lawrence's life during the Kola Fighting. Chamel Singh was also Mentioned in Despatches and he received the Russian Medal of Saint George, 3rd Class.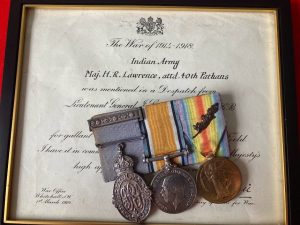 He entered the Royal Field Artillery, First Commissioned 28th March 1900 entering the Indian Army 1903. He was first appointed to civil employ with the Political Department 28th April 1904. Transferred to the Indian Army as Captain (LG 28th April 1914 pp 5967). He served in East Africa 1916-17 as Major with 40th Pathans, Indian Army (reportedly Mentioned in Despatches twice). His civil appointments post war were Secretary to Resident Hyderabad, 1919, Political Agent Haraoti and Tonk, 1921; Additional Commissioner, Ajmer-Merwara, 1926; President, Council of State, Jaipur, 1927. Retired 1930.
Born 1878 in Sirsa, Bikanir, India to Lt Col Henry John Lawrence (1845-1931) and Grace May Rundle (1855-1940). He married Mary Gertrude Adams in India (1871-1928) and later married Maud Geraldine Currie (1876-1973) in India.
Educated: Winchester College and Pembroke College, Cambridge. He died 4th February 1949 at Leominster, Herefordshire.
Medals, mounted as worn, Kaisar-i-Hind, British War Medal & Victory Medal with M.I.D. emblem pair to MAJOR H. R. LAWRENCE. 
PAYPAL is NOT available for this item. Overseas buyers must contact us to agree shipping prior to order. Email ttandm4h@outlook.com for details or call 07765 595662 to arrange.
 Part Exchange welcome.
Card Payment on Checkout – Bank Transfer (Account name: ttandm4h, Sort Code 30-94-41, Account number 48469068) – Part Exchange welcome