Description
South Africa Medal 1878-9 Clasp 80th Foot
Commonly called the Zulu Wars Medal, this South Africa 1879 Medal has the 1878-9 Clasp and is correctly named to:
446 PTE. D. WOOD 80TH FOOT.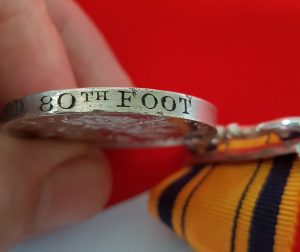 446 Private David Wood was born in Gornal Parish, Dudley, Staffordshire. He enlisted at Wolverhampton 19th December 1874 aged 20 years. He was a Miner by trade and joined the Regiment  3rd December 1878 at Pretoria, South Africa.
His medal is confirmed on the medal roll, see attached. The attached rolls confirm that he served in the campaign against Sekukuni in 1878 and the Zulus in 1879.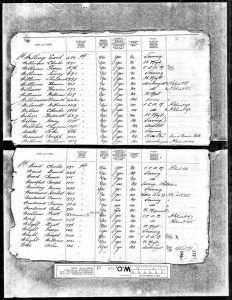 In 1876 the 80th were ordered to South Africa, arriving in Natal in 1877. Members of the regiment built Fort Amiel, named after Major Charles Frederick Amiel. They subsequently took part in the Anglo-Zulu War of 1879-80, initially suffering heavy casualties before playing a major part in the Battle of Ulundi under the command of Major (later General) Charles Tucker. Tucker went on to be colonel of the South Staffordshire Regiment. The regiment left South Africa in 1880, sailing to Ireland where they were stationed in Tralee.
As part of the Cardwell Reforms of the 1870s, where single-battalion regiments were linked together to share a single depot and recruiting district in the United Kingdom, the 80th was linked with the 38th (1st Staffordshire) Regiment of Foot, and assigned to district no. 19 at Whittington Barracks in Lichfield. On 1 July 1881 the Childers Reforms came into effect and the regiment amalgamated with the 38th (1st Staffordshire) Regiment of Foot to form the South Staffordshire Regiment.
Free postage to Mainland UK. Overseas buyers are requested to contact us prior to ordering to agree shipping terms – failure to do so may result in order cancellation.
Offers invited.