Description
Scots Guards Drummer Medals Group.  George S. B. Richardson joined the Scots Guards in 1896 aged 14 years old. George Stanley Bloomfields Richardson was born and raised in Westminster, London. The recruiting Sergeant was his own father – Sergeant Major Richardson, 4th Battalion, Bedfordshire Regiment.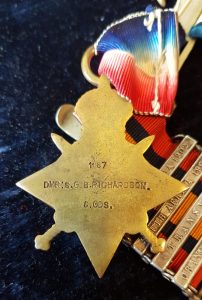 He served a total of 22 years and 137 days. He spent 1 year and 179 days in South Africa during the Anglo Boer War. His service papers confirm his service as a Drummer. Medal rolls for 2nd Battalion, Scots Guards confirm all 4 Clasps. His Great War Service saw Richardson entering France 7th October 1914, thus qualifying for the 1914 Star with Clasp and Rosette. His Medal Index Card confirm his rank, on the Star, as Drummer.
It is interesting that he forfeited his 1914 Star when he was convicted and punished for Feigning Sickness. This is recorded on his papers and the medal roll. The restoration of the Star is also confirmed on the Medal Roll under Kings Regs. He served throughout the Great War. His papers reveal that he attended an Ambulance Course and, as a Bandsman, would have served as First Aid or Stretcher Bearer.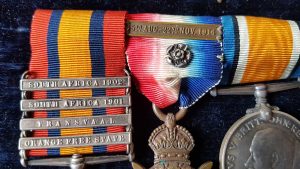 This super medal group consists of his Queen's South Africa Medal with Orange Free State Clasp, Transvaal Clasp, South Africa 1901 Clasp and South Africa 1902 Clasp named to 1167 DRMR G.S.B. RICHARDSON.  SCOTS GDS. 1914 Star with clasp and rosette named to: 1167 DMR. G. S. B. RICHARDSON. S. GDS. and British War Medal and Victory Medal duo to 1167 PTE. G. S. B. RICHARDSON.  S. GDS.  The QSA has been worn with pride and has been polished frequently as expected in a Guards Regiment which is very evident.
The group is swing mounted on a bar. 
The medals are accompanied by a letter and copy papers from the Scots Guards Band dated 1993 which is a response to an enquiry about the Service of Richardson.
Please see close up images of the Clasp.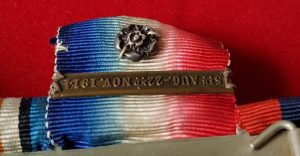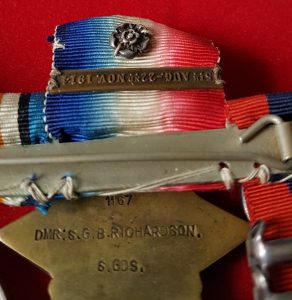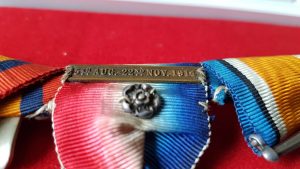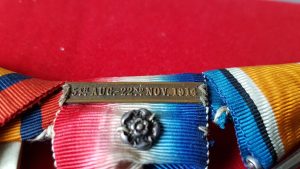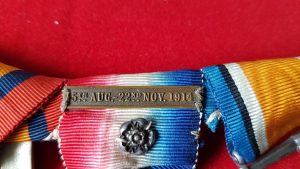 Free postage to Mainland UK. Overseas buyers are requested to contact us prior to ordering to agree shipping terms – failure to do so may result in order cancellation.