Description
SCARCE ROYAL FLYING CORPS / RAF 1914-1915 GREAT WAR MEDAL TRIO with accoutrements
This superb lot includes a RARE R.A.F. Silver War Badge, Khaki Side Cap, RFC Badge, RFC Shoulder Flash, Recipient Photo, his damaged cigarette case and lastly his Motor Cycle Despatch Rider's SPEED PASS certificate.
No.16 Squadron RFC Clerk & Motor Cycle Dispatch Rider
The group comprises : 1914-15 Star, 2783 2AM T.R. Sisson R.F.C. British War Medal, 2783 1AM T.V. Sisson R.A.F. Victory Medal, 2783 1AM T.V. Sisson R.A.F.
His Serial Number 2783 is constant and correct throughout. N.B. Error to the middle initial. THOMAS BARTLETT SISSON. Thus, his actual initials were T.B. …neither T.V. nor T.R. As can be seen on his papers the initials on his RFC papers are badly written and look like T.R. as the bottom loop on the B is open and appears to be an R. The incorrect initial V on the pair is quite clearly the very common effect of a phonetic error (…..a B sounding like a V.) when the initials were being read out from the M.I.C. during the naming process.
The medal group comes complete with some very scarce and original items.
Silver War Badge No. "RAF 10494", with pin – confirmed on his service papers.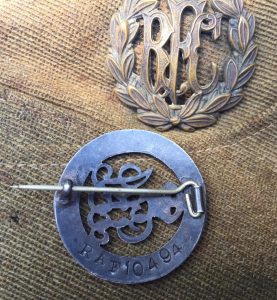 Overseas Chevron Badge. (Rare)
Original Royal Flying Corps shoulder title.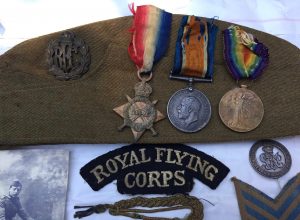 The recipient's Royal Flying Corps khaki side cap complete with badge and 2 x RFC peak buttons
Picture of the recipient in RFC uniform on his motorbike (Clerk & Dispatch Rider) The machine is a 1914-1920 Phelon and Moore 3.5hp "RFC model". This had a 499cc single cylinder 4 stroke engine which reached 50mph. An original example is on display at the RAF Museum, Hendon.
Original Despatch Rider Speed Pass for Sissons of No.16 Squadron dated Feb 20th 1915 "in the field" signed by a Major from RFC for officer Commanding No.16 Squadron. (Hole in centre) This allowed the holder to exceed the speed limit to drive his motorcycle during the execution of his duties at speed.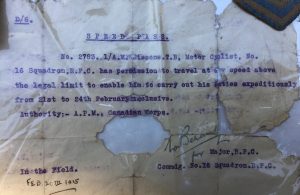 The recipient's cigarette case with severe damage to the corner area reputed to have been in his pocket when he was wounded by a gunshot or shrapnel, thus saving his life.
This group came from the family who live in Australia, the recipient having emigrated there after WW1. Thomas Sisson later flew crop duster aeroplanes in Australia .
Despite the partial protection afforded by his metal cigarette case which apparently saved his life, Thomas Sisson apparently still sustained quite a serious gunshot wound or shrapnel injury to his leg while riding his motorcycle, and was repatriated the U.K. with eventual discharge. This comes with a 1917 dated German S round and case, recently sourced, which fits exactly to support the story .
A very unusually complete and totally original ROYAL FLYING CORPS assembly worthy of a museum display.
Freepost within mainland UK – overseas buyers to contact us to agree shipping prior to purchase.