Description
Battle of the Ruhr and Pathfinders DFC, DFM medal pair with Log Book and other original items to a Warrant Officer air gunner.
Distinguished Flying Cross – London Gazette 25th May 1945 ( Warrant Officer Albert Henry Beaton D.F.M. 1394027. RAFVR 7 Sqn. )
Distinguished Flying Medal – London Gazette 13th August 1943 ( 1394027 Sergeant Albert Henry Beaton. Royal Air Force. No. 10 Squadron. )
77 Operational Flights by Squadron as follows:
27 ops with "A" Flight, 10  Squadron between 13th February 1943 to 11th June 1943 (DFM).
14 Pathfinder ops with "A" Flight, 582 Squadron between 7th August 1944 to 5th October 1944.
36 ops with "A" Flight 7 Squadron between 23rd October 1944 to 1st May 1945 (DFC).
TOTAL 77 Operations.
His Log Book is completed in a matter of fact and unembellished way without revisions or later additions. The book also reveals that during his tour with 582 and later 7 Squadrons he flew many Ops with renowned Pathfinders Wing Commander Derrick Milner Walbourn DSO, DFC and Bar and his log book has been signed off by Walbourn.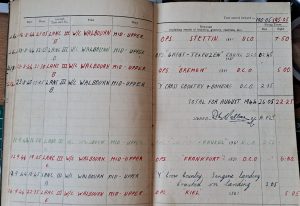 Notably, with Wing Commander Walbourn as Captain and Beaton as Mid-Upper Gunner in Lanc III "B", they took part in the attack on Westkappelle, Walcheren (Operation Infatuate, Battle of the Scheldt) to break the dyke and "sink" the island on 3rd October 1944. Beaton made a rare note in his log at the time that they "circled (the) target 2 hours".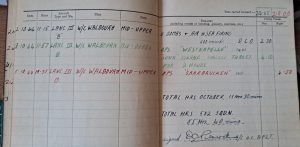 In November 1944 the Walbourn crew, now with 7 Squadron A Flight, with Beaton, flew numerous operations as Master Bomber in Operations over German targets.
Earlier in his first operational tour with 10 Squadron his Halifax was noted as damaged by flak whilst bombing Berlin in a raid of 302 aircraft. The crew made a safe return to Melbourne airfield.
This pair is one of 418 such DFC, DFM medal pairs issued – this one to Beaton is more unusual in the the DFC is to the rank of Warrant Officer.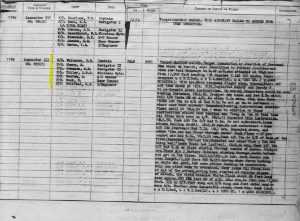 This super lot comprises –
Distinguished Flying Cross – 1945 dated. In Royal Mint box of issue. It is of note that the DFM has been kept in the same box for many, many years and an impression of the DFM can be seen embedded in the silk of the DFC box lid.
Distinguished Flying Medal – Named to: 1394027 SGT. A. H. BEATON. R.A.F.
Air Gunner's Flying Log Book – Detailing his training up until his first operation 13th February 1943 to Lorient until his final and 77th Operation of food dropping (Op Manna) 1st May 1945. Full list of Ops below. The log book also covers his several flights in 1947.
Discharge Certificate – This original document confirms the awards of both the DFC and DFM and that he was physically unfit for Air Force Service as a Gunner.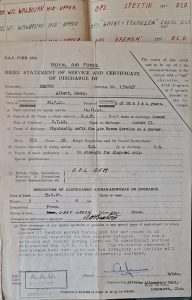 Airman's Service and Pay Book information for 1394027 Beaton confirms his date of birth 25th June 1921. He was Church of England. And a Capstan Operator in civilian life. He attested 11th July 1941 and was mobilised 26th July 1941. Pay book notes awards of DFM, DFC, Chevrons and Ribbons.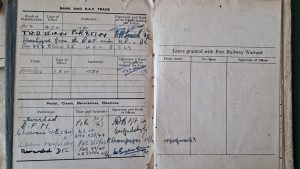 Payment to be made by Bank Transfer ( Sort Code – 30-94-41 Acct No 48469068 ). Card Payments can be made by arrangement. PayPal will not be accepted.