Description
Royal Flying Corps 5 Squadron Air Gunner 1914/15 Star medal trio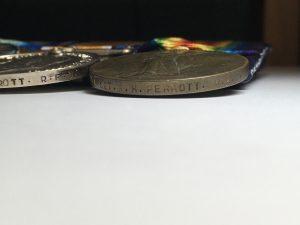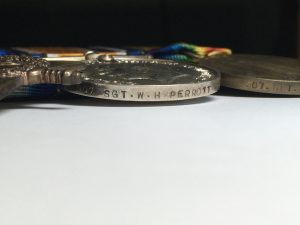 This trio is named to 907 SGT. W. H. PERROTT. R.F.C. 
Enlisted 12th March 1909. Previously RE (training depot) He transferred, prew-war to the RFC 18 June 1913 as 2 Air Mechanic and was put on a riggers course at CFS September 1914, posted overseas 19 January , 1915 earning the 1914/15 star trio. He was an aerial gunner in 1915 with 5 squadron. Promoted Flt Sgt Rigger 19 September 1916. He was chief mechanic Rigger in April 1918.
He was with 5 squadron at a very interesting time around their move from Bailleul to Abeele. The squadron saw much action around the 2nd Battle of Ypres and Loos and had a mixture of aircraft at the time. Often the squadrons would take air mechanics as a gunner as was the case with Perrott although more research needs to be done.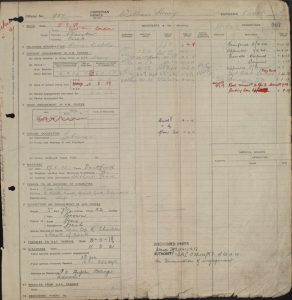 Posted to 5 Squadron
No. 5 Squadron of the Royal Flying Corps (RFC) was formed at Farnborough, Hampshire, on 26 July 1913, from members of No. 3 Squadron. Following the outbreak of the First World War, No. V Squadron deployed to France on 15 August 1914, equipped with a variety of aircraft types to implement reconnaissance for the British Expeditionary Force (BEF). It flew its first missions on 21 August and on the next day, an Avro 504 of No. 5 Squadron was the first British aircraft to be shot down, its crew of pilot Second Lieutenant Vincent Waterfall and navigator Lieutenant Charles George Gordon Bayly being killed over Belgium. On 24 August, No. V Squadron became the first unit in the RFC to shoot down an enemy aircraft with gunfire when Lt. Wilson and Lt. Rabagliati shot down a German Etrich Taube near Le Cateau-Cambrésis.
No. 5 Squadron standardised on the Royal Aircraft Factory B.E.2, specialising as observers for artillery, they also had Martinsyde and Vickers aircraft, later re-equipping with the Royal Aircraft Factory R.E.8 in May 1917, and working closely with the Canadian Corps, through to the end of the war and into 1919, when it moved into Germany as part of the Army of Occupation.[11] (Its association with the Canadian Corps led to the incorporation of a maple leaf in the squadron's badge when it was approved in June 1937).
Perrott arrived on the squadron in January 1915 and would have been on the squadron when Louis Arbon Strange DSO, OBE, MC, DFC was on the unit. Strange was posted to 6 Squadron in Feb 1915. At the time operating the BE2 and an odd mix of aircraft.
Extract from Orders:- Squadron moved to Abeele 1st May 1915. This is where Perrott served most of his time. He was on the Unit for the 2nd Battle of Ypres and the Battle of Loos
As the main role of the Royal Flying Corps squadrons is to provide support for Army operations, the flying squadrons will also re-organise. The new force will be supported by 2 Wing, which consists of 5 and 6 Squadrons located at Abeele (5 Squadron moved there today). To make up the strength of 2 Wing, 8 Squadron will transfer to Abeele on the 1st of May. 2 Wing Headquarters will be at Poperinghe.