Description
Rare Africa General Service Medal with Somaliland 190203 Clasp to 7060 CORPL. C. HOLLEY. 3RD. RIFLE BDE.
Holley was one of a small contingent of 33 from the Rifle Brigade sent to No 2 Bengal Company, British Mounted Infantry. Holley is one of 5 Corporals, he is listed as Acting Corporal,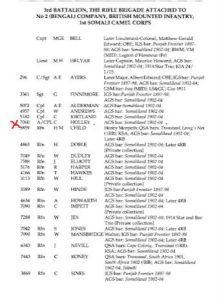 There is a superb, comprehensive article in the August 1995 OMRS Journal entitled The Rifle Brigade in Somaliland 1903-04. This chronicles the raising and deployment of the Bengal Company, British Mounted Infantry. This article also provides a roll of the Rifle Brigade personnel awarded the medal and clasp.
Confirmed on medal roll for 3rd Battalion, Rifle Brigade. He is also listed in the article under No 2 (Bengal) Company, British Mounted Infantry, 1st Somali Camel Corps.
He transferred to the Reserve 6th November 1906.
7060 Sgt  Charles Alfred Holley later served in the Great War with the Rifle Brigade as Sergeant in the 9th and later 12th Battalions and he entered France 1st May 1915.  He was demobilized January 1919 and is entitled to the 1914/15 Star medal trio. The medal roll for the BWM and Victory medal shows his name mis-spelt as Olley (same service number).
PAYPAL is NOT available for this item. Overseas buyers must contact us to agree shipping prior to order. Email ttandm4h@outlook.com for details. Call 07765 595662 to arrange. 
Card Payment on Checkout, Bank Transfer (Account name: ttandm4h, Sort Code 30-94-41, Account number 48469068). 
 Part Exchange considered.