Description
RARE Double Sea Gallantry Medal Pair 1882
THOMAS LLOYD – CHIEF GUNNER'S MATE, HM COASTGUARD
Board of Trade Medal for Gallantry in Saving Life at Sea, VR, large, bronze inscribed THOMAS LLOYD WRECK OF THE "KATLAND" ON THE 14TH NOVEMBER 1882
Lloyds Medal for Saving Life at Sea, large, bronze inscribed THOMAS LLOYD, CHIEF GUNNER'S MATE, NORTH YARMOUTH, 13TH DECEMBER 1882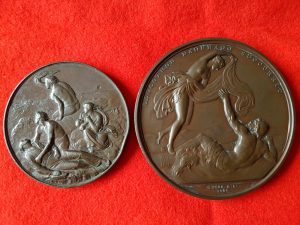 Thomas Lloyd was born in Solva, Pembrokeshire, 2nd April 1841. He joined the Royal Navy in 1860. His papers are in 2 parts. He was awarded the Long Service and Good Conduct Medal as is confirmed on his papers, see attached images.

The Board of Trade medal confirms the date of the incident and the Lloyds Medal confirm the date of investiture for this medal.
As can be read from the article, as shown here, from The People published 19th November 1882, Thomas Lloyd, during the terrible gale and in dire circumstances, volunteered to go off to the stricken Norwegian brig to assist in the rescue.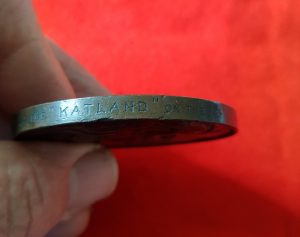 The article in the Western Morning News, 19th January 1883 records that Chief Gunner's Mate Thomas Lloyd was also Instructor for the Naval Reserve. His medals were presented to him by Captain Poynder.
Free postage to Mainland UK. Overseas buyers are requested to contact us prior to ordering to agree shipping terms, this is extremely important as the weight of these 2 superb and heavy medals will cost more than the average pair of medals.