Description
Interesting IGSM 1854 to a Civilian Official who was Mentioned in the Despatches of Sir Frederick Roberts and Major General Collett.
Arthur William Davis, 3rd son of the late Rev. Samuel Davis, Vicar of Burrington, North Devon, was educated at Rossall School and Balliol College, Oxford.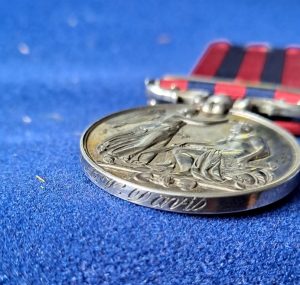 He arrived in India on the 14th December 1882 and served first as Assistant Commissioner and then by March 1891 he was appointed Deputy Commissioner.
He was on Special Duty with the Kohima Column of the Manipur Field Force from 20th April to 4th May and from 26th May to 26th June 1891. He was Mentioned in the Despatches of both Sir Frederick Roberts and  Major General Collett,CB, commanding the Manipur Field Force. These both feature on page 4370, The London Gazette August 14th 1891.
The M.I.Ds. were for the co-operation and personal influence in facilitating the transport for the Silchar and Kohima columns and his personal influence over the "wild" people enabling the march.
From being Deputy Commissioner for Darrang he became Justice for the Peace for Eastern Bengal and Assam in 1900. In 1903 he was appointed Inspector General of Police, Assam, Jails and Registration, Commissioner of Excise and Superintendent of Stamps. By 1905 he was Magistrate and Collector for East Bengal and Assam and in 1909 became Political Agent for Manipur.
medal – India General Service Medal 1854 with N.E. Frontier 1891 clasp named, in Indian running script, to Mr. A.W. Davis
His Obituary, as appeared in the Exeter and Plymouth Gazette – Friday 01 August 1913 follows:
ANGLO-INDIAN. DISTINGUISHED CAREER The late Mr. Arthur William Davis, whose funeral took place Bideford Cemeterv, was the third son of the late Rev. Samuel Davis, for many years Vicar of Burrington. Mr. A. W. Davis was educated at Rossall, Wren's, and Balliol, and joined the Indian Civil Service in 1882, being posted to Assam. He spent the early years of his service among savage tribes on the frontier, and in 1889 was the officer selected Government take charge the newly annexed Ao-Naga country. AT the time of the Manipur outbreak, in 1891. Mr. Davis was Deputy Commissioner of Kohima, and his prompt action initiating an attack on Mao Tana, the nearest Manipur outpost, undoubtedly prevented serious rising of the Hill tribes. The following year he was appointed Political Officer for the North Lushai Hills, and a few years later promoted to the important post of Inspector-General Police. His last appointment was Resident of Manipur. which held until his retirement from the service four years ago. 
The deceased was brave and an energetic officer, and exceedingly popular, being especial favourite with the Frontier Military Police, the majority of whom are Gurkhas, his bravery during the petty local wars having endeared him to them all. One occasion Mr. Davis took upon himself the duty of arresting a dacoit who was wanted for murder. The man shut himself in a hut, and armed with two broad-bladed spears, defied all comers. Mr. Davis climbed on to the roof the hut, armed with a rifle, and, pulling aside slab bark, summoned the dacoit to surrender. The man's reply was to fiercely thrust a spear, which passed between Mr. Davis's hand and face; a moment later Mr. Davis fired and shot the savage. Mr. Davis was an excellent rider and keen sportsman. In his youth he rode well to hounds, and a few years ago captained. the I.C.S. polo team at Shillong. He was in his 53rd year. Mr. J. S. C . Davis, Ebberly, and Mr. A. P. Davis, Kennerleigh Old Rectory, are brothers.