Description
New Zealand Memorial Cross, in its box of issue and postal box with court mounted medal group in card envelope to SPR. H. E. WEBSTER. R.N.Z.E. No 37328.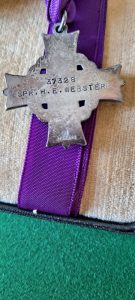 Harold Edwin Webster, 37328, Sapper, 5 Field Park Company, New Zealand Engineers, died 31st July 1943 aged 26 years.
He is Remembered with Honour MOASCAR WAR CEMETERY, EGYPT, 
Medals – Memorial Cross (sterling silver) engraved to rear 37328 SPR. H. E. WEBSTER. with 1939/48 Star, Africa Star (8th Army clasp) War Medal and New Zealand Service Medal (in card envelope of issue.
sku – jfnc