Description
Multi Action Mediterranean Fleet Navy Medal Group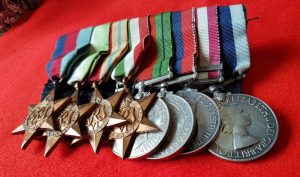 A very interesting group of 8 medals to a Senior Petty Officer / Commissioned Ship's Writer who saw very active World War 2 service in the Mediterranean Fleet. This super lot comes with surviving original papers and photographs documenting his service. His first Service Record was lost on the sinking of HMS Khartoum, on which he served from 8th February 1940 until its sinking 23rd June 1940. He then saw prolonged action whilst serving on HMS Flamingo during the Siege of Tobruk. In fact with this lot is a letter from him to the Admiralty which is an application for the award of the 8 Clasp for his Africa Star.
His employment record and other documents confirm, amongst others, that he served on:
HMS Khartoum – 8th February 1940 to 23rd June 1940 (notably – sunk)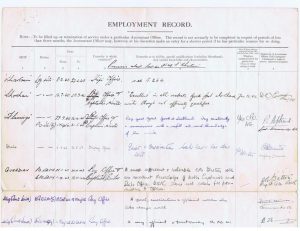 HMS Shoreham – 16th July 1940 to 28th September 1940 (notably – involved in the evacuation of troops from Berbera.)
HMS Flamingo – 29th September 1940 to 31st May 1942 (notably – Siege of Tobruk).
HMS Guardian – 25th May 1943 to 18th October 1944
HMS Nuthatch (FAA) – 20th May 1954 to 1st June 1955 – Commissioned Writer
HMS Theseus – 25th July 1956 to 23rd December 1956 – (notably – Suez Crisis action).
The group, which is swing mounted on a bar, consists of the following: 1939/45 Star, Atlantic Star, Africa Star, Italy Star, Defence Medal, War Medal, Naval General Service Medal (EIIR) with NEAR EAST clasp named to S. LT. R. J. SANDERS. R.N. and Naval Long Service and Good Conduct Medal (EIIR) named to MX 58071 R. J. SANDERS C.P.O. WTR. H.M.S. DRAKE.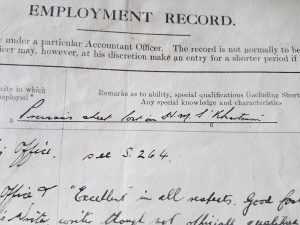 Ronald James Sanders was born in South Molton, North Devon (mother's maiden name Mitchell) on the  31st July 1920. He died at Worthing, West Sussex in April 1991.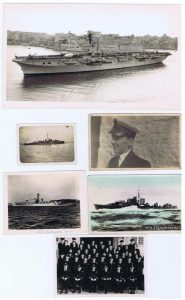 Photographs include:
Postcard of HMS Khartoum with note on reverse,
photo of HMS Burghfield Bay,
photo of HMS Flamingo,
photo of HMS Theseus with note on reverse (leaving Grand Harbour Malta for Suez Crisis operations with 845 Squadron, FAA and 45 Commando),
Portrait and Crew photographs,
It is of note that his address, on the above mentioned letter of his claim for the 8 clasp written in 1976, was H.M. Coastguard H.Q. Old Fort Road, Shoreham, Sussex indicating his employment with the Coastguard in 1976 when he would be aged 56 years.
Free postage to Mainland UK. Overseas buyers are requested to contact us prior to ordering to agree shipping terms – failure to do so may result in order cancellation.