Description
William Foyer was Killed in Action in action with Submarine, torpedoed by U9, in the North Sea 15th October 1914.
Plaque WILLIAM FOYER, 1914/15 Star, British War Medal and Victory Medal named to. 176217 W. FOYER. P.O. R.N. with box of issue and rare Admiralty Medal Issue letter to Mrs Foyer.
Hawke was sunk by U9 (Lieutnant Wettigen), north of Aberdeen. Wittegen and U9 had achieved the infamous Three Before Breakfast status having sunk the Aboukir, Cressy and Hogue 3 weeks prior on 22nd September 1914. Only 74 of the crew survived, 524 of the crew lost their lives.
PETTY OFFICER WILLIAM FOYER, Service Number: 176217, H.M.S. Hawke. Date of Death 15 October 1914. He had joined the crew of Hawke 4th February 1913.
Remembered with Honour at CHATHAM NAVAL MEMORIAL He is also Remembered on the Thaxted Memorial, Essex.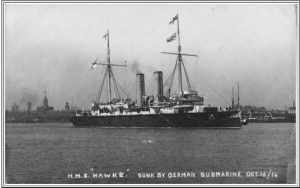 Born in Hammersmith, London, in 1878, he was a 36 year old Petty Officer when torpedoed. He lived in Bardfield End Green, Thaxted, Essex.
Notably, in 1911 H.M.S. Hawke had collided in the Solent with R.M.S. Olympic, of the White Star Line resulting in serious damage to her bows. Hawke featured in the Inquiry following the loss of the Titanic. Following the collision with HMS Hawke the Olympic was repaired at Harland and Wolff, Belfast and these repairs caused delays to completion of the Titanic. Speculation remains as to the significance of the delays on the maiden voyage of the Titanic. Wiliam Foyer was not on the crew of the Hawke at this time.
sku-pkt