Description
Machine Gun Corps Officer Casualty Medal pair and Plaque
Great War pair and Memorial Plaque awarded to Lieutenant D. A. Carmichael, Royal Fusiliers, attached Machine Gun Corps, who was killed in action in April 1918 attempting to hold back waves of enemy storm-troopers during the German Spring Offensive.
British War and Victory Medal (Lieut. D. A. Carmichael), together with his Great War Bronze Memorial Plaque (David Arthur Carmichael).
David Arthur Carmichael was born on 5 June 1890 at Greenock, Scotland, the eldest son of Thomas Carmichael, a ship owner and underwriter, and his wife Nina Jane Isabella. Educated at Loretto School, Musselburgh, from 1905-1908 and Glasgow School of Architecture from 1909-1913, he worked as a draughtsman to John McKissack & Son and John Gaff Gillespie, the latter proposing him in 1915 for Associateship with the Royal Institute of British Architects and writing in his supporting statement: 'I know that in his office work Mr Carmichael showed marked ability.'
Commissioned into the 3rd Battalion, Royal Fusiliers, Carmichael embarked for Salonika on 11 January 1916 and landed at Alexandria on 22 January. He transferred to 85th Brigade, Machine Gun Corps on 18 May 1916 and was sent to the School of Musketry, Salonika, to attend a machine gun course. Carmichael was transferred to hospital on 6 September 1917 suffering from malaria, and later reported problems with his eyes and teeth, using a posting to England on a second machine gun course as an opportunity to seek dental treatment.
Transferred to the 9th Battalion, Royal Fusiliers, attached 25th Battalion, Machine Gun Corps, Carmichael served in France from 26 March 1918. He joined his Battalion at Wulverghem on 1 April 1918 as part of a reinforcement draft of 11 officers and 260 other ranks, being posted to 'B' Company alongside 2nd Lieutenant G. F. Stocks and Lieutenant F. W. Fidgeon. Two days later the Battalion transferred to Ploegsteert and on 9 April they faced a heavy artillery bombardment which lasted throughout the day. At 1700hrs, 8 guns of 'B' Company, likely including Carmichael, were ordered to proceed to Le Bac St. Maur and cooperate with 74 Brigade in localising an enemy attack, making their way to positions previously reconnoitered by the Commanding Officer (The War Diary of the 25th Battalion, M.G.C., refers).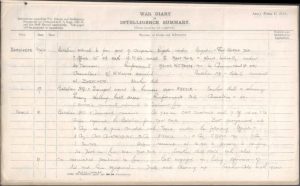 The next day saw an increasingly intense bombardment, characterised by 'minenwerfer and gas shelling' on the Ploegsteert sector which opened up at 0600hrs. The enemy rapidly entered the British support line and allied infantry was forced to retreat. It was then that 250 'surplus men' at Battalion Headquarters under Lieutenant-Colonel J. D. Deane Drummond took up a defensive line along the De Suele to Red Lodge Road, holding back the enemy advance until a counter-attack was made by men of the 2nd Battalion, South Lancashire Regiment. It succeeded, the men successfully clearing the cellars of houses along the Ploegsteert to Romarin Road and a small copse nearing Hyde Park Corner, but at the loss of Deane Drummond, who was wounded whilst leading 200 machine gunners as infantry (The 25th Division in France and Flanders, refers).
On 11 April the Germans attacked again, temporarily driving in British lines and causing a large number of casualties including Major W. W. Ashcroft who had taken over the previous day as Commanding Officer from Deane Drummond. Positions were heavily shelled, but the Battalion held out, aided by reinforcements from the 5th Battalion, York and Lancaster Regiment. With communications broken down, guns in the line were forced to fight independently and casualties mounted. By 16 April the Battalion had been forced to withdraw to Bosschepe and by April 19 they had been ordered to the Nonne Bosch where the men bivouacked in a field for the night. Several stragglers returned that night, but the men faced further hardship when it began to snow heavily. Marched by road to Grabbo Camp on 21 April, the Battalion took rest and a roll call; total casualties for operations between the 10th and 18th of April amounted to 3 officers killed, 12 officers wounded, 9 missing – including Carmichael – and a further 20 other ranks killed, 136 wounded and 149 missing in action.
Initially noted as missing in action in the Battalion War Diary, Carmichael was later recorded as having died on 17 April 1918. Aged 27, he is remembered at Tyne Cot Memorial, West-Vlaanderen, Belgium.
He is also commemorated on the Royal Institute of Architects Scotland Roll of Honour.
Overseas Buyers must contact us prior to buying to agree Shipping Terms