Description
Great War Distinguished Conduct Medal to 7th Battalion Machine Gun Corps to Serjeant James Lynch.
Distinguished Conduct Medal named to 18206 SJT. J. LYNCH. 7 / M.G.C.
Gazetted – London Gazette 15th March 1920 pp 727 – 18206 Sjt. J. Lynch, 7th Bn., M.G. Corps (Salford) (ITALY).
Citation – During the operations on the Piave, October-November, 1918. He was in charge of isolated guns, and by his initiative and steadiness lie greatly assisted towards the success of the operations. He has taken part in many actions in France and Italy, and has on 'all occasions shown most conspicuous devotion to duty.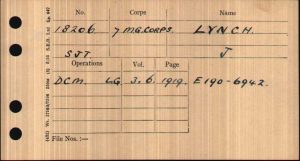 James Lynch entered France 5th October 1914 serving as 10578 Private with 2nd Border Regiment later transferring to the Machine Gun Corps. He was, therefore, awarded the 1914 Star medal trio.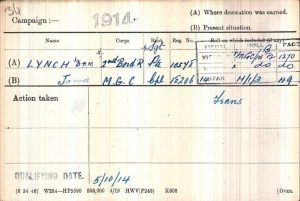 (extract from the highly informative vickersblog) – The 7th Bn, MGC was formed on 01 April 1918 attached to: 7th Division. As a unit of the 7th Division, it will have taken part in the following battles and engagements..
On the 19th January the 7th Division took over the right sector of the XIV. Corps front on the Piave, and remained in the line until, on the 23rd February, orders were received that the division was to return to France. On the 4th March the move to France was cancelled, and between the 22nd and 31st March the division took over the left divisional front of the XIV. Corps on the Asiago Plateau. The division then took part in the following operations:-
15 and 16 June Fighting on the Asiago Plateau [In Reserve, XIV. Corps].
On the 11th September the 7th Division was again warned to return to France in exchange with the 47th Division (2/London). The 7th Division was thereupon reduced to a 9-battalion basis; but, although the divisional advance parties left for France on the 24th September, the return was indefinitely postponed on the 30th; and, on the 19th October, the division took over the right of the XIV. Corps front on the Piave. The division then took part in:-
BATTLE OF VITTORIO VENETO
23 October to 04 November Passage of the Piave [XIV. Corps, Tenth (Italian) Army].
23 to 26 October Capture of the Grave di Papadopoli.
03 November Crossing of the Tagliamento.
By 3.p.m., 4th November (Armistice with Austria), the 7th Division had pushed on beyond the Tagliamento and reached a line about one-third of the way to Udine. The division was withdrawn across the Tagliamento on the 6th and 7th, and then moved back to the neighbourhood of Vicenza where demobilization was carried out.