Description
London School of Tropical Medicine Medals award medals with Great War Medal group.
This superb and very interesting group of medals, both Civilian and Military, comes with a large quantity of handwritten letters between Lt Colonel Trevor Laurence Bomford I.M.S. and family. Deeply personal, many are also written on interesting military headed paper and they contain aspects of military interest dated from .
Of particular note is his letter to his wife on the subject of the Delhi Durbar and the issue of the medal, of which he was a recipient. This letter contains eye-witness detail of the procession, allocation of medals and diagram of the procession which gives interesting background information.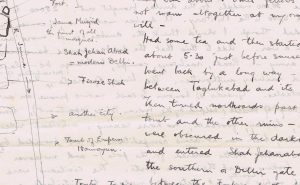 There is the significant pair of medals relating to The London School of Tropical Medicine. 1) The Andrew Duncan Medal 1922 (London School of Tropical Medicine) and 2) The Dr Cawas Lalcaca Medal (London School of Tropical Medicine) details of Dr Cawas Lalcaca can be found here – https://sikhsinshanghai.wordpress.com/2013/03/23/dr-cawas-lalcaca/
With these medals recognising his stature as a Physician is an Interesting Great War 1914 Star M.I.D. medal group to the Doctor.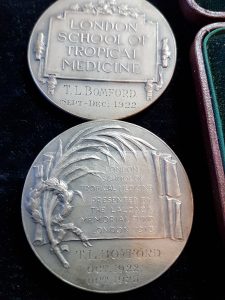 The Great War medal group consists of the following.
1914 Star, British War Medal, Victory Medal with M.I.D. Emblem, Delhi Durbar Medal 1911, Jubilee Medal 1935 swing mounted on a bar with plus his ribbon bar.
His career in brief, taken from the Indian Medical Service Gazette is as follows:
Born 8th February 1885. Graduated from St Bartholomew's Hospital M.R.C.S. 1907. L.R.C.P. London 1909 (The Lancet June 5th 1909 University of London Pass notice) M.B. B.S. London 1909: MD 1923. Lieutenant 31st January 1909.
In 1912 he sailed in the Royal Indian Marine Survey Ship Investigator as a marine biologist in an Expedition in the Indian Ocean.
His Military timeline as follows: Captain 31st January 1912. Major 31st January 1921. D.T.M. dist. London 1922. DTM. R.C.P.S. London 1923. Lieutenant Colonel 30th January 1929.
Great War 1914-21 service in France and Belgium 1914-18. Egyptian Expeditionary Force 1918.
Wounded. Mentioned in Despatches London Gazette 5th June 1919.
Author of Afghan War and Modern Research 1921.
Later in his career he was Professor of Medicine and 1st Physician Medical College Hospital, Calcutta, India. He was the commander, between 1933 and 1936 at CIM Hospital, Waziristan, Pakistan. He fought in the Second World War. He gained the rank of Physician in Egypt in the service of the 15th Scottish General Hospital. In 1941 he was invalided to South Africa.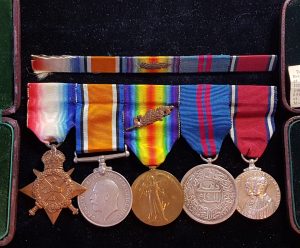 The medal group consists of and is named as follows: 1914 Trio – Star CAPT. T. L. BOMFORD. I. M. S. British War Medal and Victory Medal with M.I.D. Oakleaf to CAPT. T. L. BOMFORD. Delhi Durbar 1911. Jubilee Medal 1935, swing mounted on a bar. With dress ribbon bar plus Oakleaf emblem. Plus The DR ANDREW DUNCAN MEDAL1922 which is engraved to T L BOMFORD SEPT – DEC 1922 & DR CAWAS LALCACA MEDAL 1922/23 engraved to T.L BOMFORD. OCT 1922 – OCT 1923. Plus a small newspaper clipping referring to MAJOR T. L. BOMFORD referring to the award of the 2 boxed and named medical Medals (London School of Tropical Medicine). Achieved rank Lt. Col. Medical.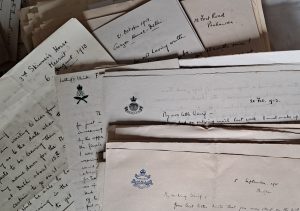 He is confirmed on the medal roll for his Delhi Durbar 1911 Medal (issued whilst attached to the Indian Marine). His medal index card confirms his entitlement to the 1914 Star trio. He entered France 10th November 1914.
The medal roll for the British War Medal and Victory Medal pair confirm that he was Officer Commanding Jodphur Cavalry Field Ambulance (France) from 9th November 1914 to 16th March 1918 and then in the Palestine Theatre (E.E.F) from March 1918 to 11th November 1918 he was with 15th Cavalry Brigade Field Ambulance (124th I.C.F.A).
He was born on 8th February 1885 and educated at St Bartholomew's Hospital in London graduating as a doctor. He became a Member of the Royal College of Physicians (MRCP) and served with the Indian Medical Service, retiring as a Lieutenant Colonel.
In the Army List for 1911 – (He is recorded First Commissioned 31st July 1909). He was attached 35th Sikhs.
In the Army List for 1912 – he was Off 25th Punjabis. He was Gazetted (London Gazette 10th September 1912 pp6705) Lieutenant to be Captain.


In 1912 he was the Marine Biologist in the Marine Survey Vessel Investigator on an expedition in the Indian Ocean. He served in World War I and in 1929 he was the First Physician in the Medical College Hospital in Calcutta. From 1933 to 1936 he commanded the Indian Medical Hospital (CIM) in Waziristan; this was a period of tension on the frontier but no real fighting took place there until 1936. Trevor served in World War II as Physician in the 15th Scottish General Hospital in Egypt, and from there was invalided to South Africa in 1941. He remained in South Africa and died there on 1st June 1945, aged 60.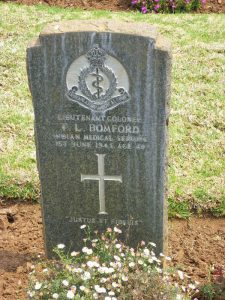 On 29th July 1914, Trevor married Winifred Dora Green, the elder daughter of Alfred Pierce Green, a doctor in Johannesburg who was the fourth son of Nathaniel Everett Green. Winifred's aunt was Anne Goold Green (1848 – 1908) who married Trevor Laurence's uncle, the Rev Laurence George Bomford (1847 – 1926), so this was the second Bomford-Green marriage. Winifred was born in 1888 and died on 14th September 1932 having had four children; these were the only grandchildren of Trevor (1849-1929).
Possibly entitled to further medals such Indian General Service Medal for Waziristan and the 39/45 Star, Africa Star and War Medal.
Trevor Laurence Bomford was born on 8 February 1885 in Multan, India. Son of Trevor Bomford, a Missionary in Multan, India. 1901 Census he is a pupil at Dean Close Boarding School, Cheltenham. He married Winifred Dora Green (1881-1932), daughter of Alfred Pierce Green, on 29 July 1914. He died on 1 June 1945 at age 60 at Johannesburg, South Africa.
Son – Sgt Michael Stephen Bomford (1923-1943) was killed in action 2nd March 1943 whilst serving in 3rd Tripoli Signals Company.
For information this wonderful archive of letters has recently been acquired, re-united and added to the original listing.
This is a heavy lot. Please contact me, Jonathan Godwin, on 07765 595662 to agree postage service and cost prior to payment. Preferred method of payment is Bank Transfer or Card Payment. Payment by PayPal is possible but will require an additional payment of 5% to cover the PayPal charges.
images of letters are not for publication or copying.
PART EXCHANGE WELCOME