Description
King's African Rifles Long Service and Good Conduct Medal with, unusually, service papers.
Named to: 6969. L.CPL. MAJIGA. 2- K. A. RIF.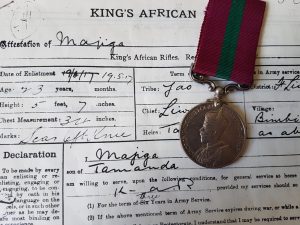 Liwonde, or Livonde, is a town located in Machinga District, in the Southern Region of Malawi.
Payment preferred by Bank Transfer (Sort Code 30-94-41. Acct No. 48469068 IBAN & BIC details on request). Payment by Card or Cheque is also accepted. Payment by PayPal – NOT ACCEPTED and will be returned if attempted.