Description
Africa General Service Medal (EVIIR) named to SEPOY HANBULLA NUR (H.Y. MUSA ABDULLA) 6 / K.A.R.
6th Kings African Rifles – DISC ONLY, see images.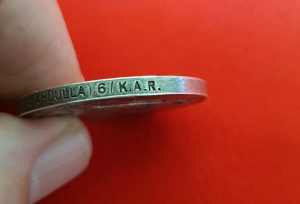 SEPOY HANBULLA NUR is confirmed on the medal roll and he also qualified for the SOMALILAND 1902-04 clasp.
Edward VII obverse
Free postage to Mainland UK. Overseas buyers are requested to contact us prior to ordering to agree shipping terms – failure to do so may result in order cancellation.