Description
The Great War medal groups of 2 brothers born and living in Great Yarmouth, Norfolk, who were both killed in the First World War.
Lance Corporal Henry Ernest Dagmar died of wounds at St Omer 4th October 1915 whilst serving with 1st Battalion, Middlesex Regiment. He had entered France 22nd August 1914. He is Remembered with Honour at Longuenesse (St. Omer) Souvenir Cemetery.

Leading Stoker William James Ernest Dagmar was killed whilst serving on HMS Kale, 27th March 1918. He was 28 years old. He is Remembered with Honour Chatham Naval Memorial.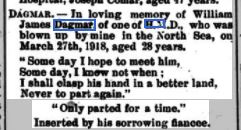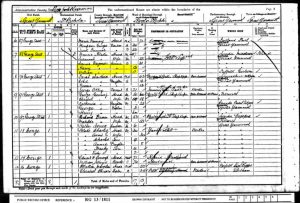 Sons of the late Henry and Caroline Dagmar; brother of Lavina C. Dagmar, of 28, Ospringe Rd., Faversham, Kent. Harry and William are listed on the 1901 Census living at 88 George Street, Great Yarmouth. Their ages are given as 13 and 11 respectively. Living with them, at the time of the 1901 Census, in Great Yarmouth was their sister Lavinia Dagmar.
The 2 Medal groups are as follows – 1914 Star ( L-8353 L. CPL. H.E. DAGMAR. 1 / MIDDX. R. ), British War Medal and Victory Medal Pair ( L-8353. PTE. H.E. DAGMAR. MIDDX. R. ) with 1914/15 Star ( K-14811. W.J.E. DAGMAR. STO. 1. R.N. ), British War Medal and Victory Medal Pair ( K-14811. W.J.E. DAGMAR. ACT. L. STO. 1. R.N. ).
The Loss of H.M.S. KALE
On 27 March 1918 Kale was lost after striking a contact mine in the North Sea with the loss of 41 officers and men. It seems she hit a British mine. David Hepper in British Warship Losses records: "The court martial enquiry was very critical of Commander Dennison [in command]. He had steered a course which was six miles east of the swept channel [i.e. swept for mines] and straight into a prohibited area which contained a defensive British minefield; details of the restricted zone had been promulgated several weeks earlier, but he had failed to read them or to see that the information provided was marked on the charts." (ackn Wikipedia)
Preferred method of payment is Bank Transfer otherwise Card Payments are available – just follow the process.
PAYPAL is also available but will attract a surcharge of 4.5% – please add on checkout.