Description
Gold Sea Gallantry Medal issued for a North Sea rescue 1888.
Named to – CAPTAIN A. DE MOOR. 19TH MARCH 1888.
Citation.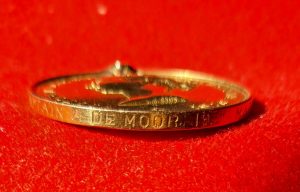 Lloyd's List – Wednesday 21 March 1888RUTH.— Rotterdam, March 20.— "The Norwegian brig RUTH, Larsen, of Sandefjord, from Christiania for London, with deals, struck on Smith's Knoll on the night of March 17, and the crew, except the master and his son, left the vessel. On the afternoon of the 18th the steamer Albert, from Hull for this port, fell in with the Ruth, which had lost her rudder, and took off the captain and his son. The Albert put her chief officer and four men on board the Ruth to bring her into port, but they were subsequently taken off again by a pilot boat, which has arrived at Flushing to-day." De Moor was Captain of the Pilot Boat.
With the FOR GALLANTRY AND HUMANITY reverse – FROM THE BRITISH GOVERNMENT. Medal has replacement gold suspender which is loose. Weight 29 grams. 33mm diameter.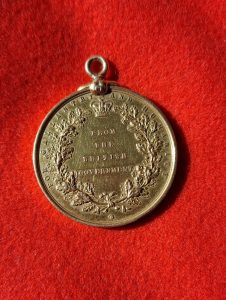 Provenance – direct from the property of a descendant of Capt David Jolly Hunter, born Dumfries. Merchant Navy Master (he Owned / Captained the Argos and the Doris late 1800s early 1900s). Hunter lived and operated out of Antwerp then became a bar owner in Antwerp where it is believed he was given this medal.