Description
 The exceptional and extremely RFC pilot's flying log book of Canadian Ace William Drummond Matheson who was observed chasing off The Red Baron after one of his own 25 Squadron aircraft was shot down. 
Military Cross citation – London Gazette 11 May 1917 – Temp. 2nd Lt. William Drummond Matheson, Genl. List and R.F.C.
"For conspicuous gallantry and devotion to duty in leading a formation of eight machines against 16 of the enemy. He drove down one hostile machine and eventually succeeded in landing his machine safely in spite of being attacked by several enemy machines. On other occasions he has brought down four hostile machines."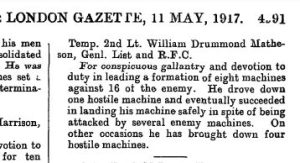 This significant combat occurred on the 24th January 1917 when one of the 25 Squadron FE2bs was attacked whilst taking photographs. The aircraft was being flown by Lt John Eric MacLennan and Captain Oscar Greig who became the 18th Victims of the Baron. They survived the crash and were taken prisoners of war for the duration.
(the following is extracted from the book Under the Guns of the Red Baron by Hal Giblin, Nigel McCrery, and Norman Franks).
"I was actually taking photos when a burst of machine gun fire from behind notified the attack. I looked round and perceived a red enemy machine diving away. In the first attack he shot through both oil and petrol tanks and splintered the propeller; Captain Grieg was also shot through both legs. As a result the machine could only glide and the manoeuverability was greatly impaired through lack of any engine power. Von Richthofen attacked all the way down till the machine was but a few hundred feet from the ground. He attacked each time from below and behind, in which position we were unable to return fire. Only once did he get in front when we managed to get off two bursts from the front gun, at longish range and without result.'
Meantime, two of the FEs attacked the enemy fighter, driving it down to 6,000 feet where it flew off. For their part, the escort were unable to dive to help the doomed FE, as they still had the second photo machine to protect. The other Jasta 11 pilots engaged this FE and the escort, causing the British aircraft to scatter.
Interestingly, a nearby 16 Squadron BE2c crew watched as the enemy fighter, with an FE on its tail (Second Lieutenants W D Matheson and his gunner, E G Green, in 7007) headed down. As the BE pilot continued to watch, he saw the FE break off and shortly afterwards the German scout went into a spinning nose-dive, falling to within a short distance of the ground. He later reported that while he did not see it crash it must have done so. Whether Richthofen was spinning away to get out of trouble, or as a result of the wing cracking is unclear. If the former, then obviously the strain imposed on his DIII caused the wing to crack. The FE crew were credited with an 'out of control' victory, but as so often happened, the German aircraft did not crash, although von Richthofen was forced to land. (see victory table below)
Not only are log books rare in the first instance but to have a confirmed "driven down" over the Red Baron and witnessed by another crew, even rarer.
Date
Time
Unit
Aircraft
Opponent
Location
1

22 Oct 1916

0900

25

F.E.2b (7007)

D (DES)

SW of Seclin

2

22 Nov 1916

25

F.E.2b

EA (DD)

Arras

3

24 Jan 1917

25

F.E.2b

Scout (DD)

Mericourt (Red Baron)

4

04 Mar 1917

1115

25

F.E.2b (7025)

LVG C (DES)

Courrieres

5

16 Mar 1917

25

F.E.2b

EA (DD)

Neuvireui
It is of interest that in the action in which he was seen driving down the Red Baron he was flying F.E. 2b. 7007 which was the "Nova Scotia machine (his home Province) presented to the Royal Flying Corps by the Province of Nova Scotia" as annotated in this fine Log Book.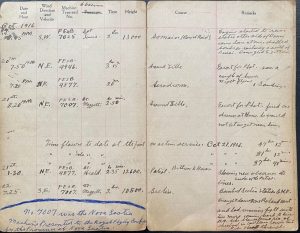 Notably, Matheson was a contemporary, at 25 Squadron, of Thomas Mottershead VC, DCM, who gained his DCM on a raid over Samain railway station flying FE2b number 6998. Matheson was on that raid as witnessed in his flying log book entry for the 22nd September 1916. A few days later, Matheson himself flew the same aircraft 6998 and does so on a number of other occasions. Mottershead was later posted to 20 Squadron where he won his VC.
Sgt Mottershead VC, DCM
On 22 September, with 2/Lt C. Street as observer he bombed the railway station at Samain, destroying one ammunition train and strafing another. While climbing away from the target, their aircraft was attacked by a Fokker scout. Accounts of the engagement indicate that it was Mottershead's skillful manoeuvering which enabled Street to shoot the enemy aircraft down. For this action and other displays of gallantry, Sgt Mottershead was awarded the Distinguished Conduct Medal and promoted to the rank of Flight Sgt.
Undocumented accounts state that Mottershead and another No. 25 Squadron pilot landed on a German airfield, allowing their gunners to shoot up the hangars before taking off and escaping. The reputed date and location seem to remain unknown, but he was then transferred to No.20 Squadron at Clairmarais aerodrome.
The logbook is annotated with many descriptions of his sorties, including detail, anti-aircraft fire, damage to the aircraft, air to air combat, bombing raids and photo recon. On one occasion he brings his observer home wounded with shrapnel in his back.
William Drummond Matheson, the son of W. G. Matheson, an engineer and boilermaker, attended St. Andrew's College from 1905 to 1910. A mechanical engineer from New Glasgow, Pictou, Nova Scotia, he joined the Royal Flying Corps as an Air Mechanic on 14 March 1916. He was promoted from Sergeant to temporary 2nd Lieutenant (on probation) on 12 November 1916. With 25 Squadron he flew the F.E.2b and scored five victories  1 before being wounded by machine gun fire on 16 March 1917. His left foot was amputated as a result of his wounds and he returned to Canada for treatment.
After his hospitalization in Canada, on 2 Oct 1918 he was posted to the School of Special Flying; and on 19 Dec 1918 he was again posted, this time to Headquarters.
An important logbook with over 170 hours completed over the Western Front in combat with 25 Squadron from September 1916 through to March 1917 when he is injured, bucking the trend of average survival times of 10 weeks for RFC pilots at the time.
PAYPAL is NOT available for this item. Overseas buyers must contact us to agree shipping prior to order. Email ttandm4h@outlook.com for details or call 07765 595662 to arrange. 
Card Payment on Checkout, Bank Transfer (Account name: ttandm4h, Sort Code 30-94-41, Account number 48469068). 
 Part Exchange welcome.