Description
Exceptional Anglo Boer War DSO and QSA medal pair.
Herbert Hayden Wilson was born February 14, 1875 in St. Kilda, Victoria, Australia
Commissioned into the Sherwood Rangers (Nottinghamshire Yeomanry) on the 25th December 1895. He volunteered late 1899 to serve in South Africa and was appointed a Lieutenant in the Imperial Yeomanry where he served in the 3rd Bn. He served in the South African War, 1900-1, with the Imperial Yeomanry, taking part in operations in the Orange Free State, April and May 1900. Operations in the Transvaal, west of Pretoria, July to 29 November 1900, including actions at Venterskroom (7 to 9 August). Operations in Orange River Colony, May to July 1900, including actions at Lindley (1 June) and Rhenoster River.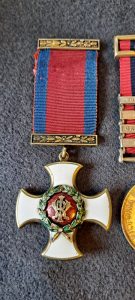 He was twice mentioned in Despatches [London Gazette, 23 April and 10 September 1901]; received the Queen's South Africa Medal with four clasps, and was awarded the Distinguished Service Order [London Gazette, 23 April 1901]. Citation as follows: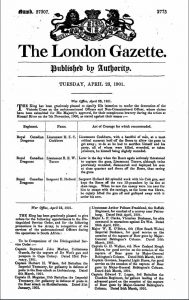 "Herbert Haydon Wilson, Captain, 3rd Battalion The Imperial Yeomanry. For gallantry in defence of posts in the Boer attack on Lichtenburg. Dated 6 March 1901".
Distinguished Service Order (QV) and Queen's South Africa Medal with Cape Colony clasp, Orange Free State clasp, Transvaal clasp and South Africa 1901 clasp named to: CAPT. H. H. WILSON. D.S.O. 10 / NOTTS. Co Impl. Yeo.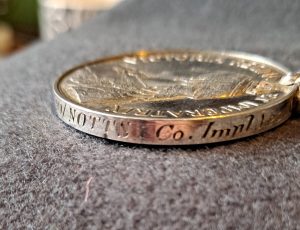 and died April 11, 1917 (Aged 42) in Ypres, West-Vlaanderen, Belgium serving as Captain Royal Horse Guards. He was killed at Arras in the Great War serving as Captain Royal Horse Guards and he is buried in the Fauborg D'Amiens Cemetery.
As a sportsman he, notably, was in the Gold Medal Winning Polo Team at the 1908 London Olympics.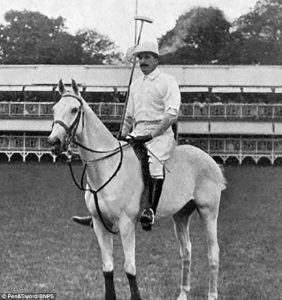 He was a prominent figure in the Polo world, and, indeed, was a member of the Hurlingham Committee, the governing body of the game in this country. He played for the Roehampton Club and was a member of their 1908 Olympic gold medal winning team. Wilson was also a notable huntsman, he rode with Leicestershire's three finest Hunts, the Quorn, Belvoir and Cottesmore.
Herbert Hayden Wilson was the son of Sir Samuel Wilson, an Irish-born landowner who moved to Australia in the mid-19th century with the purpose of mining for gold but he then turned to sheep grazing along with his brothers. He moved to England in 1881 and later became the MP for Portsmouth from 1886-92. He moved back to Australia in 1893 and returned to England in 1895 and died in London a few months later. He left an estate worth over £15 million in today's terms, a large amount of which was part of his inheritance.
His eldest brother was Lieutenant Colonel Gordon Wilson, MVO, Royal Horse Guards, who was killed in action during the First Battle of Ypres; his second brother, Wilfred (of the Northumberland Yeomanry), lost his life during the South African War, in which campaign another brother, Clarence, attached to the 8th Hussars, was severely wounded".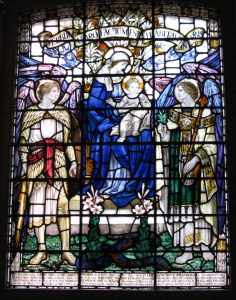 PAYPAL WILL NOT BE ACCEPTED AS A METHOD OF PAYMENT FOR THIS GROUP, Please contact us for Bank Details