Description
John Baron, 6th Battalion, East Lancashire Regiment, was Killed in Action 29th October 1915 in the Gallipoli campaign.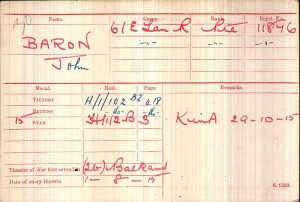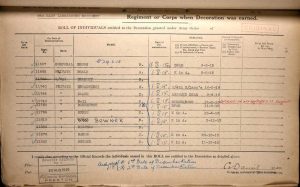 He was the son of Joshua and Catherine Baron of 24 Back Lane, Darwen Lancashire. He was 21 years old when killed. He is Remembered with Honour on the Helles Memorial.

1914/15 Star, British War Medal and Victory Medal named to: 11876 PTE. J. BARON. E. LAN: R.
This unit endured high casualties in the war as can be seen form the medal roll on which his name is listed.
6th (Service) Battalion was formed at Preston in August 1914 as part of K1 and came under command of 38th Brigade, 13th (Western) Division. Moved to Lucknow Barracks, Tidworth but by January 1915 was in billets in Winchester. Moved to Alma Barracks, Blackdown (Aldershot) in February 1915. It sailed from Avonmouth on 16 June 1915 and landed on Gallipoli 7 July 1915. They were in action in the Battle of Sari Bair, The Battle of Russell's Top and The battle of Hill 60 at ANZAC.