Description
One of the very first DFCs, awarded to Sir Roydon Englefield Ashford Dash, 8 Squadron, Royal Flying Corps.
Roydon Englefield Ashford Dash was born on 3rd March 1888 in Mortlake, to Roland Dash, a civil servant, and his wife Jane. By 1911 the Dash family were living at Englefield, Warren Lane, Oxshott, and Roydon was a Technical Assistant in the Valuation Department of the Inland Revenue.
Medals – Knight Bachelor Badge (with box of issue), Distinguished Flying Cross (in John Pinches box of issue), British War and Victory medal pair ( CAPT. R.E.A. DASH. R.F.C. ) and 1953 Coronation medal (with box of issue.) (5)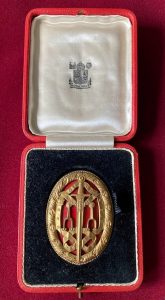 Sold with the main medal group is his set of dress miniatures, silver Rugby Football 5th BDE R.F.C. 1918 winners medal in box of issue, named to Dash, Lawn Tennis Association Surrey Runner up medal named to Dash, in box of issue, a 9ct gold Somerset House Golf Society medal (18 gms), named to Dash, in box of issue, plus other unnamed items. Lastly and significantly the 30 page typed memoir and some copy papers.
The details below are snippets taken from his memoirs as recorded in spoken interview in his later years. These 30 pages give a fascinating insight into the man and his impressions of the fledgling RFC and the war in general: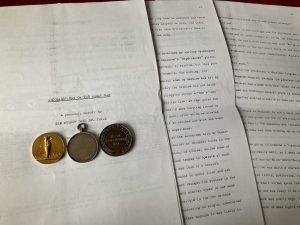 Educated at Haileybury he became a Surveyor. He also joined the Brooklands Motor racing scene and took to racing his motorcycle. At this time he met and became friends with Malcolm Campbell and at one time was taken on a drive in a road tuned version of the Bluebird. They later shared a flying instructor at Gosport. A keen sportsman, he was a scratch golfer and played County Tennis for Surrey, playing at Wimbledon on several occasions. He was once beaten, second round at Wimbledon,  by the very recognisable Rene Lacoste, the French World No 1 player and "crocodile" clothing designer.
At the outbreak of war he applied to join the RFC but was turned down. He then tried to join the infantry. Again, he was rejected. He finally joined the Public School Battalion then was commissioned into the 6th (Territorial) East Surreys.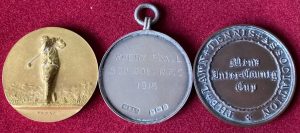 In June 1918, No 8 Squadron, part of the Royal Air Force since 1 April 1918 and commanded by Major T. Leigh-Mallory, was allocated to the Tank Corps, flying contact patrols in support of the Tank Corps attacks during the Battle of Amiens, and becoming expert in spotting and destroying German anti-tank guns. The FK.8s and some tanks were equipped with wireless sets, although wireless communications between tanks and aeroplanes remained at a very basic stage for the rest of the war.


On 12 August 1918, Captain Ferdinand West of 8 Squadron was flying a F.K.8 on a contact patrol when he was attacked by seven German fighters. Despite a severe leg wound, West managed to manoeuvre his aircraft so that his observer could drive off the attacking fighters, before making a forced landing behind Allied lines and insisting in reporting the results of the flight. He was awarded the Victoria Cross for this action. Roydon Dash would have known Captain West and Dash's links to Leigh-Mallory are detailed above.
In his own words he declares "somewhere along the line I managed to collect one of the first six DFCs awarded". He had actually seen that he had been recommended for the DSO but as acting CO (he was Flight Commander), due to his boss being sick and seeing his own name at the top of the list he could not sign his own name off. Thus, receiving the DFC – London Gazette 31st May 1918 (pp 6519).

Once back in the UK, following his time in France, he was given the job of  starting a new squadron at Crail, Scotland. As a preliminary to this appointment he attended the respected and renowned Major Smith-Barry, of "the Gosport System" renown in Hampshire.
His Knighthood was Gazetted, London Gazette 8th June 1945 (pp 2934).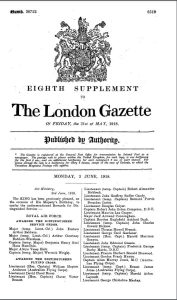 Records show that Captain Roydon Dash took his Aviators Certificate, on 30th March 1917, in a Maurice Farman Biplane at Gosport Military School. At this point Dash was Captain of the 2/6th East Surrey Regiment, however it seems that at some time after this he transferred to the newly formed Air Force.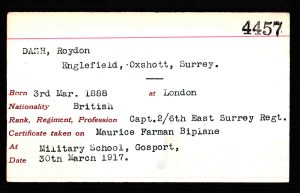 Sir Roydon Englefield Ashford Dash, DFC, FRICS, FAI, was awarded the 1953 Coronation Medal in his capacity of Chairman, Stevenage Development Council.
In July 1918 the parish magazine recorded that:
We are delighted to notice amongst the Royal Birthday Honours, that the Distinguished Flying Cross has been awarded to [Captain] R E Ashford Dash, RAF [Royal Air Force], for acts of gallantry when flying in active operations against the enemy.
Sir Roydon Englefield Ashford Dash survived the war and passed away in 1984, at the age of 96, having been knighted sometime previously. Sources: St Andrew's, Oxshott, Parish Magazines, October 1914, December 1914, July 1915, September 1915, July 1918, SHC Ref. 8909/8/1/4.
This group has been in private hands since 1994 and we are delighted to bring it to the market. Images shown are downloads publicly available.
PAYPAL is NOT available for this item. Buyers, both UK and Overseas, must contact us to agree shipping prior to order. Email ttandm4h@outlook.com for details or call 07765 595662 to arrange.
Card Payment on Checkout, Bank Transfer (Account name: ttandm4h, Sort Code 30-94-41, Account number 48469068).
Part Exchange offers invited.