Description
Dragoon Guards Boer War and Great War Medal Group. This fine South Africa Boer War and Great War 1914 Old Contemptibles Medal Group is awarded to Private Charles MILLER, 3rd Dragoon Guards, later Corps of Dragoons and South Lancashire Regiment. The group consists of a Queen's South Africa Medal (Cape Colony Clasp, Orange Free State Clasp, Transvaal Clasp) to 3920 PTE. C. MILLER. 3RD DGN. GDS.
1914 Star (clasp and rosette) to 3920 PTE. G. MILLER. 3/DGN. GDS. British War Medal and Victory Medal trio named to: 3920 PTE. G. MILLER C. OF. D. GDS. Charles Miller, 19 years old when he attested in 1897, was from Southwark, London. His QSA Medal and 3 clasps are verified on the medal roll for the 3rd Dragoon Guards.
Charles Miller's papers, on-line, confirm that he served for 136 days in South Africa in 1901 and after 15 months back in the UK he returned to South Africa for a further 1 year 321 days in 1903/04. He was Mobilised 5th August 1914 and was attached to the 1st Life Guards  on the 30th August 1914 and he entered France 6th October 1914. He was later transferred to the 7th, South Lancs Regiment, No. 32096, having spent the first 6 months of the War with the Expeditionary Force. His medal index card confirms that he was awarded the Clasp and Rosette.
Please see close ups of the 1914 Clasp: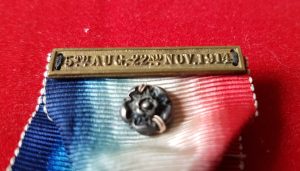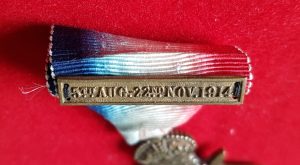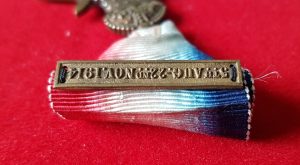 With miniature group of Great War medals as shown.
Free postage to Mainland UK. Overseas buyers are requested to contact us prior to ordering to agree shipping terms – failure to do so may result in order cancellation.