Description
Defence of Chitral India Medal Pair
Defence of Chitral 4th Kashmir Rifles India Medal 1896 Named to 324 Lance Naick Binn. 4th Kashmir Rifles.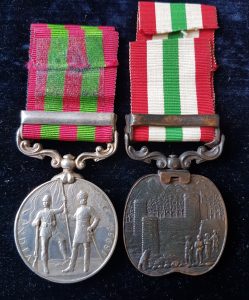 with Jummoo and Kashmir Medal – unnamed as issued.
Siege of Chitral
The Chitral Fort was 80 yards square and built of mud, stone and timber. The walls were 25 feet high and eight feet thick. There was a short covered way to the river, the only water source. The fort held 543 people of whom 343 were combatants including five British officers. The units were the 14th Sikhs and a larger detachment of Kashmiri Infantry. Artillery support was 2 RML 7 pounder Mountain Gun without sights and 80 rounds of ammunition. There were only 300 cartridges per man and enough food for a month. There were trees and buildings near the walls and nearby hills from which sniping was possible with modern rifles. Captain Charles Townshend, later of Mesopotamia fame (Chitral Charlie), commanded the fort.
Jummoo and Kashmir Medal – The Jummoo And Kashmir Medal was a campaign medal presented for service during the Defence of Chitral 1895 and its subsequent relief. The medal was 'instituted' in the same year and was awarded by the Maharajah of Jummoo and Kashmir to both his native troops, and a force of approximately 400 British soldiers who fought against the Afghan's led by Umra Khan and Sher Afzul.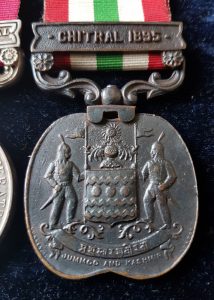 The medal was produced in London by Gurney and Son and was always issued with a clasp; 'CHITRAL 1895', which has the makers mark; 'GURNEY LONDON' on the reverse, see images.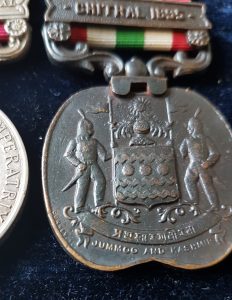 Naming of the India Medal is officially engraved in script as can be clearly seen in the attached images.
Free postage to mainland UK. Overseas buyers please contact us to agree shipping.