Description
Crimea Medal to a Naval Lieutenant.
Sidmouth Stowell Skipwith was born 29th March 1825. His service summary is 2 years Junior Service, 8 years at Sea, 6 years Coastguard Commander (from 1861), Half Pay time 10 years.
His career is best summed up in his Obituary as follows:
"Evening Standard Thursday 19th September 1872
NAVAL AND MILITARY INTELLIGENCE.
Death of Commander Sidmouth Stowell Skipwith, R.N.— Commander Sidmouth Stowell Skipwith died at Woodside, Turvey, on the 14th inst., in his 48th year. The deceased officer was tenth and youngest son of the late Sir Gray Skipwith, Bart., and brother of the present Captain Grey Skipwith, E.N. He passed his examination July 19, 1814, and from Dec. 23 following until promoted to Lieutenant, Nov. 9, 1846, served in the Excellent, gunnery ship. From Jan. 6. 1847, until paid off in 1848. he served in the Trafalgar, 120, in the Channel and Mediterranean; from Sept. 28, 1849, to Jan. 4, 1863, in the Leander, 60, at Lisbon and on particular service; and from Feb. 3, 1853, until transferred to his old ship, the Leander, 50, in the Mediterranean, June 19, 1865, as flag lieutenant to Rear Admiral C. H. Fremantle : served in the Queen, 116, also in the Mediterranean. He was promoted to commander August 11, 1856; commanded the Prometheus, 5, on the West Coast of Africa, from October 15, 1869, to November 13, I860; was inspecting commander in the coastguard service successively at Carn, Donegal, at Swansea, South Wales, and at Barnstaple, from July 26, 1861, until August, 1864. He was again employed as inspecting officer successively at Montrose and Whitstable from January 21, 1808, until April 21, 1871, when he was placed on the retired list."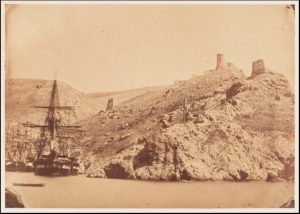 His Crimea service was aboard H.M.S. Leander and he is on Leander's roll for his Crimea medal.  6 January 1855, under her new Captain William Peel, Leander became the flagship of Rear-Admiral Charles Howe Fremantle, controlling the naval transport service from Balaclava on the Crimean Peninsula during the Crimean War. Peel served with the Naval Brigade during the Crimean War. On 18 October 1854 at the Siege of Sevastopol, he picked up from amongst several powder cases a live shell with the fuse still burning and threw it over the parapet. The shell burst as it left his hands. For this he was awarded the Victoria Cross (VC); it is now displayed at the National Maritime Museum in Greenwich, England. On 13 August 1855 William Moorsom became her captain, and she remained Fremantle's flagship. Her final Crimean War captain was Edward Rice, from 5 January 1856 until she paid off at Chatham Dockyard on 23 September 1856.
He died 14th September 1872, late of Woodside Turvey, Bedfordshire, Commander, Royal Navy.
Medal – Crimea Medal with Sebastopol clasp named to Lieut. S.S. Skipwith.
sku – pkt