Description
Cheshire Regiment Military Cross (later served ADRIC)
Military Cross, in box of issue, named to Lt F T WOODCOCK, CHESHIRE REGIMENT. Frederick Thomas Woodcock began his Great War service as 2929, Private, 1st Cambridgeshire Regiment. He entered France 10th July 1915 with the Cambridgeshire Regiment and was later commissioned 2nd Lt and Gazetted 2nd Lt Cheshire Regiment 27th June 1917. Military Cross Citation – London Gazette 26rd July 1918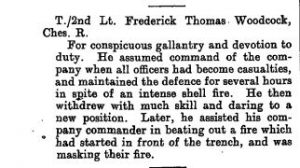 (pp 8859), as follows. T/2nd Lt. Frederick Thomas Woodcock, Ches. R. For conspicuous gallantry and devotion to duty. He assumed command of the company when all officers had become casualties, and maintained the defence for several hours in spite of an intense shell fire. He then withdrew with much skill and daring to a new position. Later, he assisted his company commander in beating out a fire which had started in front of the trench, and was masking their fire.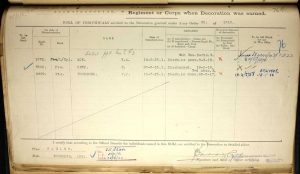 Medal Rolls confirm that he will have a 1914/15 Star named to 2929 PTE. F. T. WOODCOCK CAMBS REGT and a British War Medal and Victory Medal pair named to 2 LT F T WOODCOCK. N.B. MIC states that he served at one time as a Lieutenant, see below image. In August 1920 Woodcock joined ADRIC, the Auxiliary Division of the Royal Irish Constabulary. This unit, The Corps d'elite, was formed of ex British Officers. Information about Lt Woodcock shown below has been gained from www.theauxiliaries.com (our thanks to the creator and owner of this site for permission to present the below information).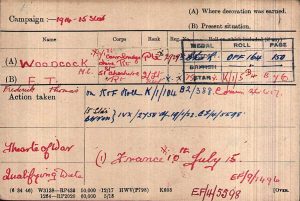 1919 Oct 22 Gazetted out as Lt. 1920 Aug 31. Joined ADRIC with service no 468. Posted to E Coy. 1920 Sep 15. Promoted Section Leader. 1920 Nov 10. Promoted Platoon Commander. 1920 Dec 23. Reverted to T/Cadet "on command". He moved to RIC Depot, but it was cancelled on 4 Feb 1921. So I assume he remained DI3 in ADRIC. 1921 Oct 7. Discharged Medically Unfit, not due to RIC service. I have notes from My Great Grandmother stating that her brother Fred injured in Ireland, was sent home in a wheel chair, married his nurse and went to live in Brighton. My Grandmother told me that Frederick had been shot in the back and never walked again. 1922 Oct/Dec Married in Cambridgeshire to Madeline G Combs (she was born 1902 in Brighton). 1938 Mar 29. The family have a letter from the War Office dated 24th April 1952 informing his sister that her brother died in Kings College Hospital 29th of March 1938. 
Frederick Thomas Woodcock was born in Cambridge 26th October 1894. His Death Certificate, Lambeth Registration District, records that he died at King's College Hospital. He was aged 43 years and is recorded as a pensioned Lieutenant, Cheshire Regiment of The Sanctuary, Morden, Surrey (see image).

Free postage to Mainland UK. Overseas buyers to contact us prior to purchase to agree shipping costs.