Description
Quarter Master Sergeant James Melvile Cottam, 11th Battalion, Canadian Infantry, died March 18th 1916.
Born 1889 in Barnet, Middlesex, he was a Stenographer when he attested. He was promoted to Pay Sergeant and was transferred to Chief Pay Office. He was then promoted to Q.M.S. December 1915 but was admitted to Hampstead Hospital March 20th 1916. He died the next day 21st March 1916 of intestinal obstruction.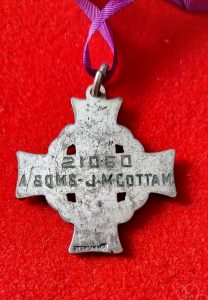 He  Remembered with Honour at Friern Barnet (St. James The Great ) Churchyard, Middlesex.
Cross Nmed to – 21060 A/SQMS J. M. COTTAM
sku jfnc