Description
First World War brothers medal groups.
Walter and Alfred George Heard appear together in the 1911 Census as living Bermondsey, London. Respectively, they were a 22 year old Carman and an 18 year old Dustman in this survey.
Alfred George ( M1/8060 Private, Royal Army Service Corps ) entered France 2nd November 1914, thus qualifying for the 1914 Star trio. He was killed 1st November 1918. He is Remembered with Honour at CROSS ROADS CEMETERY, FONTAINE-AU-BOIS.
Walter ( L-22341 Gunner, Royal Field Artillery ) entered France 12th December 1915. He was discharged wounded 13th February 1918, Silver War Badge number 327582, aged 28 years.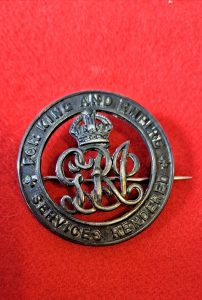 Medals – 1914 Star, British War Medal, Victory Medal ( M1-8060 PTE. A. G. HEARD. A.S.C. ) on new ribbon, with brother's 1914/15 Star, British War Medal, Victory Medal ( L-22341 GNR. W. HEARD. R.F.A. ) and Silver War Badge ( No. 327582 ). Total items 7
sku – jfnc