Description
Australian born Nursing Sister's Great War Medal Group.
Nita Scott was born in North Melbourne, Victoria, Australia. She was in the UK at the outbreak of war nursing at the American Womens' War Hospital, Paignton, Devon, and on enlisting into the QAIMNSR she served 1 year in Egypt (see Medal Index Card).
Having served the 1 year in Egypt and returned to Australia she was a 29 year old nurse working at Melbourne Hospital, Australia, when she re-attested in April 1917 into the Australian Imperial Force for service abroad as her attestation papers reveal.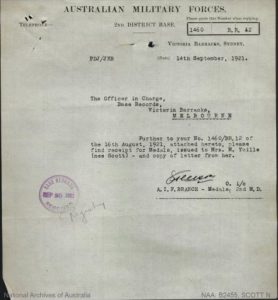 She later took the name upon marriage of Mrs M Yuille of Brisbane Street, Dubbo, N.S.W.
Medals: 1914/15 Star ( SISTER N. SCOTT Q.A.I.M.N.S.R. ), British War Medal and Victory Medal ( SISTER N. SCOTT  ), Q.A.I.M.N.S.R. Tippett medal, silver hallmarked, On War Service 1915 badge in brass numbered 52820.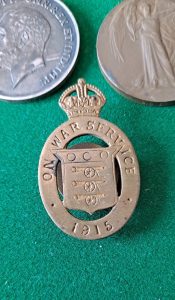 Service papers, 35 of) available to view at the excellent Australian site: Papers are digital downloads which will  https://recordsearch.naa.gov.au/SearchNRetrieve/Interface/DetailsReports/ItemDetail.aspx?Barcode=3003366&isAv=N
Please contact us to pay by Bank Transfer or follow Checkout process. Also, overseas buyers are to contact us before purchase to agree shipping costs.
PayPal is not accepted for this item.