Description
A very fine Anglo-Boer War QSA with the following 7 clasps of BELMONT, MODDER RIVER, PAARDERBERG, DRIEFONTEIN, JOHANNESBURG, DIAMOND HILL AND BELFAST named to:
2310 PTE J. PERRY. SCOTS: GDS:
The medal roll for the 1st Battalion, Scots Guards confirms the medal and the 7 clasps.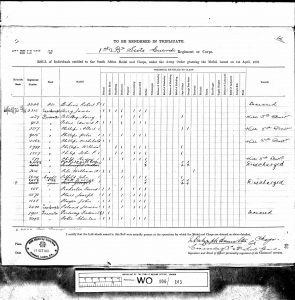 James Perry is an intriguing chap in that his papers reveal an alias of Percy Edward Pittard.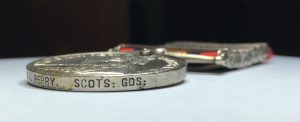 Born in Taunton, Somerset, he is shown as an 18 year old Seaman when he attested at Dorchester in August 1898.
By 1901 he had been promoted to Corporal but then reduced to the ranks having been convicted of drunkenness. He served until 1910 having spent 3 years in the Cape.