Description
Scarce Afghanistan Medal 1878-1880 to Private James Stewart, 72nd Duke of Albany's (later Seaforth Highlanders) Highlanders, killed in action at the Battle of Peiwar Kotal, 2nd December 1878.
Private James Stewart was killed at the Battle of Peiwar Kotal on the 2nd December 1878, as recorded on the Medal Roll.
The Battle of Peiwar Kotal, battle of the Second Afghan War, fought on 2nd December 1878, in which General Frederick Roberts forced the western end of the Khyber Pass. The 72nd (Duke of Albany's) Highlanders performed notably gallantly, as per General Roberts' despatches, with the 5th Gurkhas on the attack on Spingawi Pass on the morning of the 2nd.
This battle, in particular, brought General "Bobs" Roberts, to prominence in the public eye. Important detail of the attack on the Spingawi Kotal by the 72nd and the 5th Gurkhas, led by Bobs, is well reported in newspapers reports immediately following the battle.
This victory, against a well positioned superior force, opened the route to Kabul and helped lead to the Afghan government suing for peace and accepting a British Resident in Kabul, the first phase of the war ending on 26 May 1879. It also brought General Roberts, until then a little known staff officer, into public prominence, both in Britain and the wider Empire. Captain John Cook of the 5th Gurkhas, was awarded the Victoria Cross for his role in the battle.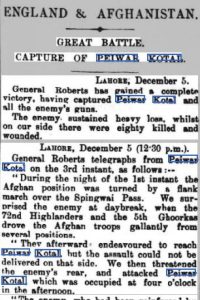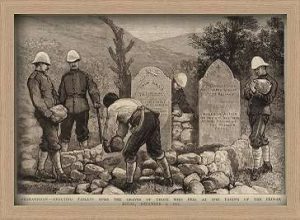 James (Jas) Stewart is named as Killed in Action on the Memorial to the 72nd Highlanders situated at Edinburgh Castle. 1674 Private David Power, who is the only other member of the 72nd Highlanders named on the medal roll as being Killed in Action on the 2nd December 1878, is also named on this Memorial.
medal in superb condition – Afghanistan Medal 1878-1880, Peiwar Kotal clasp ( 58B / 323. PTE. J. STEWART. 72ND. HIGHRS. )
PAYPAL is NOT available for this item. Overseas buyers must contact us to agree shipping prior to order. Email ttandm4h@outlook.com for details or call 07765 595662 to arrange.
 Card Payment on Checkout, Bank Transfer (Account name: ttandm4h, Sort Code 30-94-41, Account number 48469068).