Description
207 Squadron DFC MID Medal Group
This superb lot consists of the following: Medal group, swing mounted on a bar of a Distinguished Flying Cross
, 1939/45 Star, Air Crew Europe Star, Defence Medal, War Medal with M.I.D. emblem. Log Book, Framed M.I.D. Certificate, Framed letter from Buckingham Palace, Dog Tag, Navigator Brevet Badge, Observer Brevet Badge, 3 original letters, Medal slip and DFC ribbon piece for wear, please see images. 117570 Flying Officer Richard Owens Pontifex BEATTY, 207 Squadron, No. 5 Group was awarded the DFC for his 25 Sorties over the most heavily defended areas of the THIRD REICH including 8 attacks on Berlin, recommended 2nd February 1944. It was announced in the London Gazette 21st April 1944.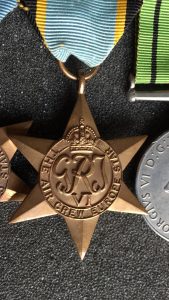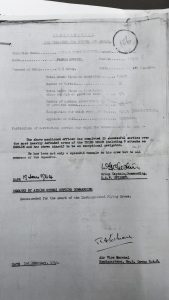 He was also Mentioned in Despatches which was announced in the London Gazette 14th June 1945 – the framed Certificate of the MID is present in this lot, see image.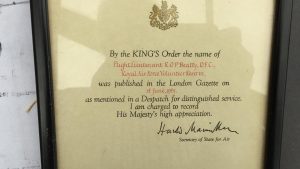 His Log Book confirms his 1st Operation 23rd May 1943 in Lancaster ED550(k) as 2nd Navigator on Dortmund. He went on to fly as Navigator on raids over Essen, Wuppertal, Bochum (twice), Oberhausen,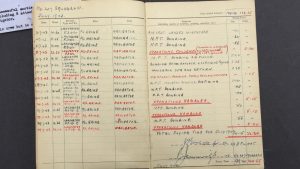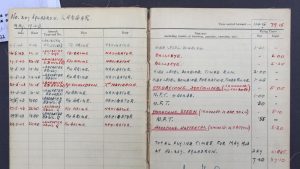 Cologne (twice), Hamburg (three times), Munich, Berlin (6 times), Hagen, Frankfurt (twice), Stuttgart, Hanover, Leipzig and Dusseldorf. He went on to fly with 46 Squadron in the Eastern Mediterrannean, 5 L.F.S. Syerston, 242 Squadron, 246 Squadron, 511 Squadron.
Richard Owens Pontifex BEATTY was born in London 1909, he died in 1997 in Exeter, Devon. He spent much of his life living in Surrey including in Dorking. His civilian employment was as a Bank Clerk with the Bank of England.
There are 3 additional pieces of correspondence including a letter to Beatty from the established author Martin Middlebrook who was researching the Hamburg Raids.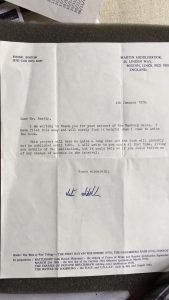 Free postage to Mainland UK. Overseas buyers are requested to contact us prior to ordering to agree shipping terms – failure to do so may result in order cancellation.