Description
1914 Medal trio to John Edward Woolley of A Company, 2nd Battalion, Rifle Brigade.
Woolley entered France 7th November 1914. He was Killed in Action on the 25th September 1915, first day of the Battle of Loos. The Ploegsteert Memorial lists 152 casualties of the Rifle Brigade on this day alone. Woolley was one of the 2 of "A" Company casualties.

John Edward Woolley was born, circa 1881, in Stoke, Rochester, Kent, son of Edward Kelly.  Medal index card confirms promotion to Corporal (as per the BWM, Victory pair). He was 34 years of age when he was killed.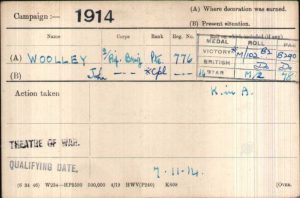 The 1911 census confirms that he was with the 2nd Battalion, Rifle Brigade in India from where the battalion was mobilised to enter France 7th November 1914. The battalion in August 1914 was based at Kuldana in India. It Sailed from Bombay on 20 September, landing at Liverpool on 22 October 1914. Moved to Hursley Park and came under orders of 25th Brigade in 8th Division. 6 November 1914 : landed at Le Havre.
John Edward Woolley is Remembered with Honour – PLOEGSTEERT MEMORIAL
medals – 1914 Star ( 776 PTE. J. WOOLLEY. 2 / RIF. BRIG. ), British War Medal, Victory Medal ( 776 CPL. J. WOOLLEY. RIF. BRIG. )
sku – jfnc