Description
Great War Medal trio to Lance Corporal Andrew Speirs (Black Watch): Killed in Action 27th August 1918 attached 13th Battalion, Royal Inniskilling Fusiliers at Vieux Berquin, Nieppe Forest
He enlisted into the Royal Highlanders 1914 (7101, 202413) and entered France 8th April 1915. He fought at Loos, Neuve Chappelle, Ypres and the Somme. He was wounded 5 times transferring to the Labour Corps (380100). He subsequently served with the 13th Battalion, Royal Inniskilling Fusiliers (47399). He is Remembered with Honour at Outtersteene Communal Cemetery Extn, Bailleul.
Medal Rolls for the Royal Inniskilling Fusiliers confirm Andrew Speirs' number 47399 and that he was Killed in Action 27th August 1918.
The Regimental History records that Private Speirs was killed during the fist action of the newly formed 13th Battalion Royal Inniskilling Fusiliers. The history notes the "This Battalion won its spurs near Landeck. Advancing on August 27th at 10 a.m. the 13th Inniskillings were held up by heavy machine gun fire, but by resolute and clever outflanking movements evicted the enemy". Private Speirs would have been one of 27 Other Ranks killed.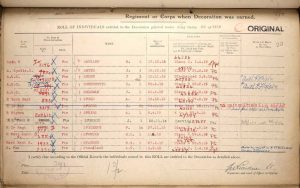 Trio comprises 1914/15 Star (202413 PTE. A. SPEIRS. R. HIGHRS.), British War Medal and Victory Medal pair (7101. PTE. A. SPEIRS. R. HIGHRS.)
Andrew Speirs was 37 years old when killed. Only son of William Spiers, railway servant, 19 Murieston Crescent, born 1880 he was a former pupil of George Heriot's School, Edinburgh and was a book-keeper in Messrs Lorimer and Chalmers, Edinburgh at the outbreak of the war.
Payment by Bank Transfer preferred. If paying by PayPal please add 4% to cover costs. Overseas buyers are requested to contact us to agree shipping method and costs before purchase.